Scholar Days
Join us For Our Prestigious Scholar Days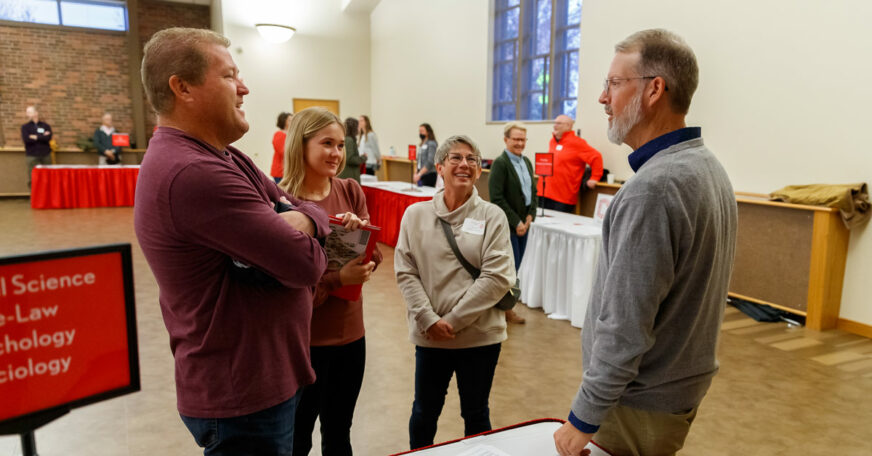 Participate in One of Our Prestigious Scholar Day Events
Jan. 28 or Feb. 4
The Central experience creates connections and opens doors to a future filled with relationships you can lean into time and time again. It starts with a conversation with faculty during Scholar Day, where you and other accomplished students have the opportunity to earn top academic scholarships up to full tuition. Not only will you have the chance to make friends and meet professors, you'll also participate in an open-ended group challenge designed to showcase collaboration, creativity and communication.
This event is open to all admitted students. Dress is business casual.
Scholar Day is a great opportunity to visit campus and meet future classmates. Students attending this event will be eligible for various scholarships and likely form friendships for a lifetime. Scholar Day gives students the opportunity to compete for scholarships beyond what is awarded at the time of admittance:
Full-Tuition Scholarships
Central awards multiple Kuyper, Rolscreen and Thomas Ross Smith Scholarships — which cover recipients' tuition all four years. These scholarships are the most prestigious awards granted at Central. Recipients will be chosen after all Scholar Days are completed.
$500–$1,500 Scholar Day Awards
These are available to students who participate in Scholar Day.
Schedule
Morning Session

8:15 a.m.
Registration and Meet with Central Faculty, Graham Conference Center
8:45 a.m.
Welcome by President Mark Putnam, Douwstra Auditorium
9:15 a.m.
Students: Collaborative Group Discussion, Graham Conference Center Banquet Room

Parents: Panel Discussions With Alumni and Current Parents, Douwstra Auditorium

10:15 a.m.
Students: Interview and Student Panel Discussions, Roe Center
11 a.m.
Thanks for Visiting!
11:15 a.m.
Optional: Campus Tours and Financial Aid Appointments
Afternoon Session

1:15 p.m.
Registration and Meet with Central Faculty, Graham Conference Center
1:45 p.m.
Welcome by President Mark Putnam, Douwstra Auditorium
2:15 p.m.
Students: Collaborative Group Discussion, Graham Conference Center Banquet Room

Parents: Panel Discussions With Alumni and Current Parents, Douwstra Auditorium

3:15 p.m.
Students: Interview and Student Panel Discussions, Roe Center
4 p.m.
Thanks for Visiting!
4:15 p.m.
Optional: Campus Tours and Financial Aid Appointments
Register for this Event