Meet Greg Ricketts '23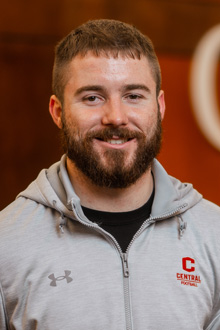 ---
Greg Ricketts '23
Admission Student Ambassador
---
Hometown: Rochelle, Illinois 

Major: Economics 
Minor: Business Management and Spanish

Campus Activities: Student Athlete Advisory Committee, Football 
Career Goal: My career goal is to work in collegiate athletics. 
What's a Fun Fact About You? I am the American Rivers Conference national representative to the NCAA, so I have the opportunity to represent Central College and the American Rivers Conference nationally. 
What Is Your Favorite Thing About Pella/Iowa? I like how clean and unique the town is. Pella is always well-kept, and you can tell the community cares. It also has a rich Dutch heritage, which I had never experienced before attending Central. I had so many great experiences in Pella, and it's very difficult to choose a single one, but the moments I had within the Central football program are something I will never forget. 
What Do You Enjoy About Being a Student Ambassador? I enjoy showing prospective students around campus and discussing my experiences at Central. Having the opportunity to share my experiences and what Central has to offer is a lot of fun.