Meet Lexie Buls '23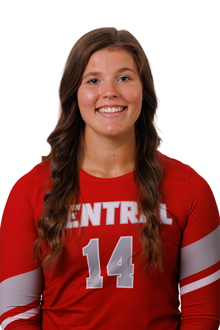 ---
Lexie Buls '23
Admission Student Ambassador
---
Hometown: Kansas City, Missouri
Major: Elementary Education
Campus Activities: Volleyball and Central Dutch Academy
Career Goal: Fifth-grade teacher
What Is Your Favorite Central College Tradition? Breakfast of Champions! The night before finals start, faculty and staff serve Central students breakfast for dinner to celebrate the hard work students have put in studying for exams.
What Is the Tastiest Meal From Central Market or Fred's? Fresh Cookie Tuesday! It's a weekly tradition that happens during lunch hours at Central Market and it's definitely a favorite around here.
What Is Your Most Memorable Experience at Central College Thus Far? The headphone dance was so fun! There are a few different channels students can tune in and dance to. Taking off your headphones and listening to the silent shuffling of people dancing also is pretty funny!