Meet Grace Hoffman '25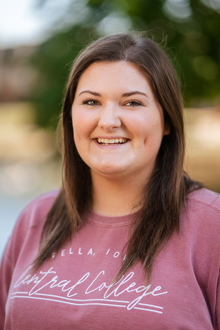 ---
Grace Hoffman '25
Admission Student Ambassador
---
Hometown: Moravia, Iowa
Major: Biology
Campus Activities: Gaass Hall President, Biology Supplemental Instructor, Dutch Brigade, Bridge Club and Board Game Club
Career Goal: Continue education in medical school with the goal of becoming a cardiothoracic surgeon
Why Did You Choose Central? I went on more than 20 college visits and was offered multiple athletics scholarships, but none of those schools felt like the right fit. As soon as I walked onto Central College's campus on my first official visit, it just felt like home. Everything began clicking into place. Central offered me an amazing academic scholarship to further my education, and I felt truly supported on campus. Central was intentional to invest in my future.
What Is Your Favorite Weekend Activity at Central College? My favorite weekend activity at Central College is going to football games with the Dutch Brigade. We all wear fashion-forward red and white striped overalls to support the Dutch football team. GO BIG RED!
What Is Your Most Memorable Experience at Central College Thus Far? My most memorable experience at Central thus far is from my freshman year when our football team was tied with 0.5 seconds left on the clock. They scored, and the entire student section hurdled the fence and stormed the field to celebrate with the team. Everyone was so excited and proud … it was a moment I'll always remember!