Meet Charles Martin '23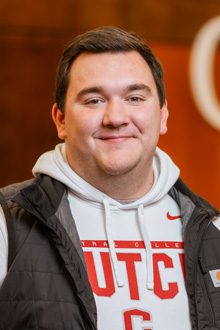 ---
Charles Martin  '23
Admission Student Ambassador
---
Hometown: Wilton, Iowa 

Major: Accounting and Business Management – Finance 
Minor: Economics

Campus Activities: Dutch Brigade, Economics, Accounting and Management Club, Ski and Board Club, TMK Hall Council 
Career Goal: My short-term career goal is to be an auditor at a public accounting firm. My long-term goal is to be a CFO at a middle market company in Iowa. 
What's a Fun Fact About You? I love to spend time on the water, both solid and liquid. In the summer, you can find me on a boat soaking up the sun. In the winter, I like to go skiing. I go on the annual Ski and Board Club trip. We leave the day after fall finals and head to the mountains in Snowmass Village, Colorado. I had never been skiing before coming to Central, and now it's one of my favorite things to do. 
What Is Your Favorite Central College Tradition? Central College has so many great traditions, but my favorite is the Breakfast of Champions. This tradition takes place the night before finals and everyone heads to Central Market for a late breakfast meal. The twist is our professors and staff serve the food. It's cool seeing them outside of the classroom or office, especially Eric Jones, who always seems to be walking around with giant trays of donuts and handing them out to everyone. 
What Do You Enjoy About Being a Student Ambassador? I enjoy the opportunity to meet prospective students and share stories about my experiences. You get to know almost everyone and people are friendly and fun. I have had an amazing time here, so I like being able to show off what makes Central an amazing school.