Meet Bryson McGowan '24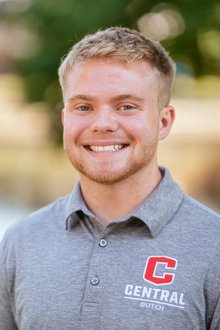 ---
Bryson McGowan '24
Admission Student Ambassador
---
Hometown: Urbandale, Iowa
Major: Musical Theatre
Minor: Spanish
Campus Activities: A Cappella Choir, Chamber Singers, ALMA and Theatre
Career Goal: Work for a theatre company and/or perform professionally (at least once!)
What Is Your Most Memorable Experience at Central College Thus Far? Traveling to Argentina with the A Cappella Choir is an incredible experience. I'll never forget it!
What's a Fun Fact About You? I broke my arm on the first day of kindergarten. Thankfully, I didn't repeat that experience on my first day at Central.
What Do You Enjoy About Being a Student Ambassador? It's a privilege to see students get excited about going to college. And I hope that their interactions with me may even be part of the reason they choose Central.