Meet Caroline McMartin '24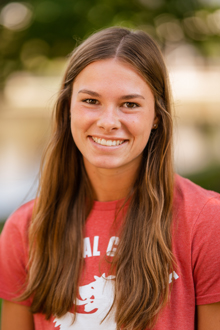 ---
Caroline McMartin '24
Admission Student Ambassador
---
Hometown: Pella, Iowa
Major: Biology
Campus Activities: Cross Country and Track and Field
Career Goal: Dentistry
What Is Your Favorite Central College Tradition? Homecoming week is always fun; I really enjoyed the headphone dance last year!
What Is Your Most Memorable Experience at Central College Thus Far? My most memorable experience so far is competing at the national level in cross country and track. It was amazing to represent our school and program at a higher level, and it's an experience I will always remember.
What Is Your Favorite Thing About Pella/Iowa? My favorite thing about Pella is the small-town feel and its Dutch heritage. Pella is a great location; I enjoy going to Lake Red Rock, going out to eat or shopping around town.