Meet Savannah Sexton '25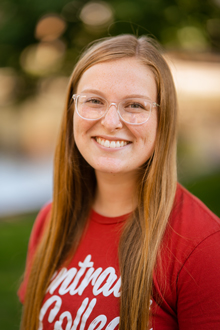 ---
Savannah Sexton '25
Admission Student Ambassador
---
Hometown: West Branch, Iowa
Major: Business Management and Secondary Education
Minor: Spanish
Campus Activities: A Cappella Choir, Students Concerned About The Environment, Resident Assistant, Dance Marathon, Symphonic Wind Ensemble and Zumba Club
Career Goal: High school business teacher or human resources representative
What Is Your Favorite Central College Tradition? The Lemming Race during Homecoming! It's so fun to dress up, run down the Peace Mall, hop into the pond and climb up on the island to sing Central's fight song. There are YouTube videos about it, if you want to check it out!
What Is Your Favorite Weekend Activity at Central College? Getting coffee and walking around Pella with friends.
What Is Your Most Memorable Experience at Central College Thus Far? I have made so many memories playing sand volleyball with friends!