Meet Madison Zink '23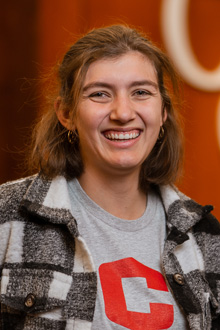 ---
Madison Zink  '23
Admission Student Ambassador
---
Hometown: Papillion, Nebraska

Minor: English 

Campus Activities: Campus Ministries Leadership Teams, Student Research 
Career Goal: I'm still exploring exactly what I want to pursue but a possible end goal could be becoming a professor. 
What's a Fun Fact About You? I am the biggest animal geek in the world! I've been able to study bats at Central. I even went to Costa Rica to do biology research on bats and to practice my Spanish! If you ask me for fun facts about these creatures, you may never escape. You've been warned. 
What Do You Enjoy About Being a Student Ambassador? I am someone who cannot sit still and loves to talk. I was born for this job. I absolutely love making sure I answer questions that I never understood while I was searching for a college and sharing stories of my experiences at Central. 
What Is Your Most Memorable Experience at Central College Thus Far? I have so many amazing experiences at Central, but my favorite has to be the campus ministries Texas mission trip! At the end of Christmas break, we went to the border of Mexico to build a house and serve people. It was life changing! I also look forward to the Calm on the weekends. Every Sunday night, campus ministries has a non-denominational service where I get to meet up with all of my friends and fill myself with fellowship and worship before the next chaotic week! They sometimes have snacks there, too.