An Example at the Top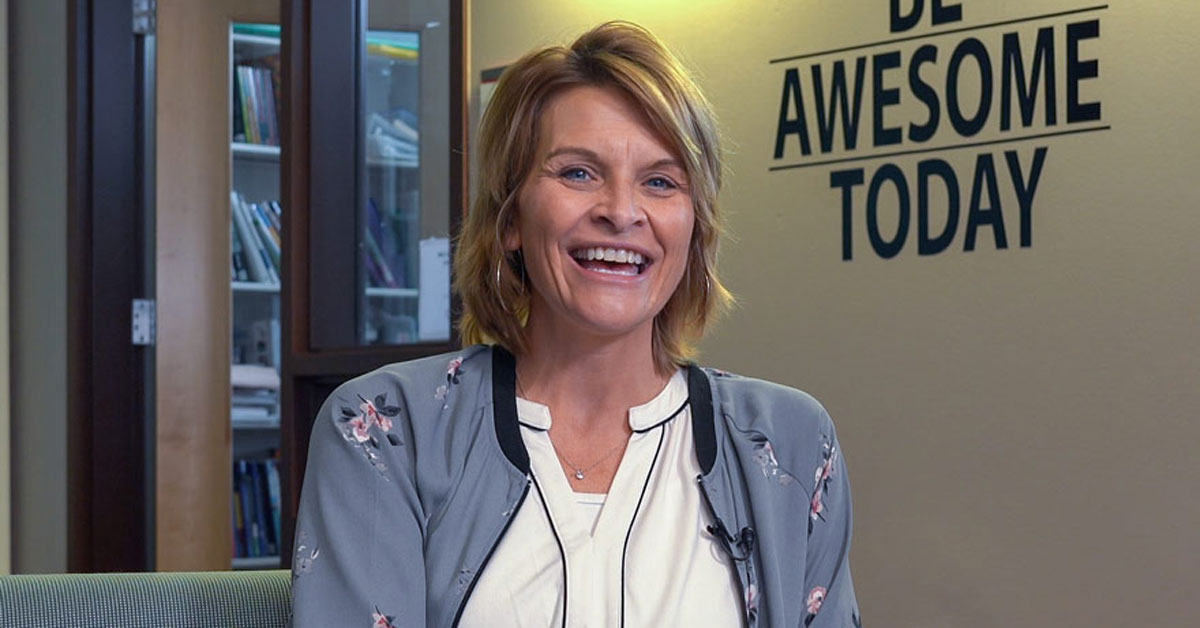 "Rather than seeing our students as clients or the outcome, they're people and they're as much a part of our team as anyone. Building relationships is something we preach all the time to our students as future educators."

– Jen Diers
Associate Professor of Education
Title: Associate Professor of Education
Department: Elementary and Secondary Education
Hometown: Breda, Iowa
Education: B.A., Finance, University of Northern Iowa; M.Ed., Special Education: Behavior Disorders. University of North Carolina, Charlotte; Ph.D., Human Development and Family Studies, Iowa State University.
Areas of Expertise: Child and Adolescent Development, Trauma-Informed Care and International Education
Courses Taught: Developmental Psychology, Children with Exceptionalities and Classroom and Behavior Management
Other Duties: Education Department Chair
Recent Publications and Presentations: Diers, J. et. al. (2018, January). The U.S. educational system. Collegio Americano. Merida, Mexico; Diers, J. (2019, January). Making Sense of Disabilities in the College Classroom. Central College Faculty Workshop, Pella, Iowa; Diers, J. et. al. (2018, January). Working with students with exceptionalities. Central College Academic Affairs Spring Workshop. Pella, Iowa.
Recent Faculty/Student Research Projects: Carter, C., Taylor, J., Diers, J. (December 2018) Positive Psychology and Elementary Education. Department of Education, Central College, Pella, Iowa; Yousse, K., Wick, S., Diers, J. (2016). An investigation of individuals that foster and adopt: typologies, motivations and perceptions. Department of Psychology, Central College, Pella, Iowa.
---
Jennifer Diers long ago heard something she's held on to her entire teaching career.
"There's an old saying: 'They don't care what you know until they know you care. So, we really try to embody that here," Diers says.
Diers certainly personifies caring to the highest levels, both professionally and personally.
As associate professor and chair of the education department, Diers knows the importance of building caring relationships with the students she teaches and advises. Soon, she hopes, they will become teachers and shape the next generations of learners.
"My favorite part is the relationships," says Diers, who started at Central in 2008. "What makes Central's education department unique is our relationship with students. It's a very intentional relationship with students. And we really want our students to feel like our door is always open to them.
"We have a unique culture in the department because we have a lot of fun. There's a lot of laughter among not only the faculty, but the faculty and students and others across campus."
Diers calls herself a glass-half-full person and it's easy to see why. She pushes positivity in the department, challenging her staff as they give back to students. That's their top priority.
It certainly works. Central's education program is one of the best in the state and sets examples with innovative things like Central Teacher Academy. CTA puts education students in classrooms well ahead of their student-teaching requirement, going above and beyond in preparing tomorrow's educators.
"I think students see us as real," Diers says. "In our department, we are very open with our students. We want them to be the best teachers they can be. We challenge them to their fullest potential, above and beyond what they might think they can accomplish. We won't just let a student earn a poor score; we will remediate and continue to challenge them to be successful in every assignment and task."
Diers takes it beyond the classroom, bringing her students into her personal life.
Through a friend who started an orphanage in Africa, Diers and husband Doug have adopted five children, three with severe disabilities. The couple also has three biological children.
"People always tell us how blessed or lucky our adopted children are to have joined our family. In reality, my husband and I feel like we are the ones who are blessed. Our children have given us an entirely new perspective on life and our faith in Christ," Diers says.
Once a semester, Diers brings her children to class, exposing students to children with exceptionalities.
"Meeting my children helps my students see that they can use the degree and knowledge they seek at Central to truly change the world — or to at least change the world for one person," Diers says. "My students are just attracted to my family. It's not uncommon for them to show up at our door and want to jump on the trampoline with the kids and we love that we can provide that home-away-from-home to Central students.
"Rather than seeing our students as clients or the outcome, they're people and they're as much part of our team as anyone. Building relationships is something we preach all the time to our students as future educators because we know it is one of the most effective evidence-based practices in education."