Profiles
Making an Impact
"This school provides so many opportunities that you might not get anywhere else."

– Jeremy Vester '19
Hometown: Oak Harbor, Washington
Major: Exercise Science
Scholarships: Central Foundations Award, Central Heritage Award, Central Ministry and Mission Award, Edgett
Campus Activities: Fellowship of Christian Athletes, Wrestling, ALMA, Homecoming Court, Post Office Work Study, Team Huddle Leader, Wrestling Team Bible Study, Student Support Services, Wakanda Forever, Intervarsity, Campus Ministries, Resident Advisor
Next Step: Master's Degree in Human Performance from Liberty University
---
Jeremy Vester '19 has been everywhere: Captaining the wrestling team, performing in Central's ALMA vocal ensemble and leading a Fellowship of Christian Athletes Bible Study. Vester served as a resident advisor and Student Support Services leader. He regularly participated in school dances and Central traditions such as the Lemming Race, Long Night Against Procrastination and Final Fling Lip Sync contest. Heck, he was even Homecoming King.
Vester credits Central's dive-in-and-do-it culture with his busy schedule. "Central goes above and beyond in setting up events and finding ways to get people involved and have fun on the weekends," he says. "This school provides so many opportunities that you might not get anywhere else."
In fact, Vester created at least one of those opportunities: Wakanda Forever, an organization dedicated to helping African-American students get involved at Central. He grew up in Oak Harbor, Washington, and followed his brother, Jahleel Vester '18, to Central. Vester says Jahleel's presence made his transition to college smoother. Still, "There was a huge culture shock," he says.
"Wakanda Forever is a pivot point, helping them connect with organizations," Vester adds. "I'm comfortable trying new organizations; now, I help others get involved. I've grown to be more adamant about making a change and helping others."
As social as he is, Vester was a student first. The exercise science major says, "If your main focus is education, you'll fit right in here. Central teaches you to work hard and find a way to be successful. I've enjoyed all my classes because you get to work and study with different people.
"I had Assistant Professor of History Tim Olin, and I really enjoyed his teaching style. He's so passionate. Listening to his lessons on history and life is amazing. I tried theatre and had a blast. Art was another favorite class. I loved being challenged to be creative," Vester says.
Music is another creative outlet—one Vester discovered at Central. "Right before I came here, I convinced my mom to buy me a guitar," he says. "Then I met Campus Ministries Worship and Ministry Team Coordinator Matt Van Sant. I would go in and talk to him, and he would teach me some chords to practice."
Vester started singing, too, as a part of ALMA, Central's vocal ensemble. "The biggest thing I learned is to just go for it and have fun. Don't leave with any regrets." Vester also has put his musical abilities to use singing for the Calm, a weekly student worship service hosted at Central's Chapel.
The devout Christian has pursued his faith through InterVarsity, Campus Ministries and FCA. "I've grown a lot in my faith since freshman year," Vester says. "I learned how important it is to have brothers who are willing to strive and grow in their faith with you. Having a community that's like-minded can really pull you up."
Vester is grateful to have found that community at Central, especially in his wrestling team. "It's like a really close-knit family," he says. "When you can say that your family loves you no matter what and God loves you no matter what, you'll enjoy what you do much more. Also, any time you go through a tough situation with people, you're going to grow through it. It teaches you humility and to put others before yourself—which is ultimately what Christ teaches us to do."
He also leads a Team Huddle Bible Study for his teammates through FCA, an experience that was especially uplifting for him. "Knowing that you're investing into someone is really a blessing," Vester says. "God's blessed us, and there are so many people who've mentored us, so it feels good to give back. When I see guys who used to just listen now participate, benefit and mentor others, it's awesome."
Vester also grew through competition. "One of the biggest things I've learned is how to lose with grace and fail forward," Vester says. "In the end, success is elevating others. It's not always going to be in receiving a trophy that you've been fighting for. Elevating others and helping them accomplish their goal is the biggest success for you."
Speaking of success, Vester was accepted into the master's program in human performance at Liberty University in Lynchburg, Virginia, following his graduation from Central in May of 2019. He credits Lecturer of Exercise Science Katelin Valster for inspiring him to do so. "She did an awesome job helping me apply to graduate school," Vester says. "Her belief in me made the difference. I didn't think I could do it. Her belief in me sparked a belief in myself."
Vester already is thinking about keeping in touch with teammates. "I'm going to watch them wrestle. I'm probably going to call every now and then, too, just to see how the guys are doing," he says.
Vester's biggest impact is that he cares. He introduced himself to every new student he saw, made conversation at every table in Central Market and studied with everyone in Geisler Library. Extroversion isn't just his nature, it's his learning style and his service ethic. "You never know who you could meet," he says. "Just being friendly and saying hi to people can make a difference, because you never know what people are going through."
His motto: "Leave a big impact wherever you go, because you might not get a second chance." At Central, he didn't need a second chance. He squeezed every bit of experience he could from his four years.
— Profile and photo by: Brandon Rosas '20
About the Writer/Photographer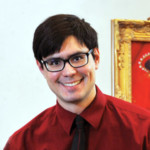 Hi! My name is Brandon Rosas '20 and I am a communication studies major and art minor. I currently work as a student writer for Central Communications. Outside of class, I can usually be found drawing, watching Salsa dance videos or studying in the Maytag Student Center. I would love to hear from you!
Please contact me at rosasb1@central.edu with your questions about Central.