STEM Visit Day
Join us June 18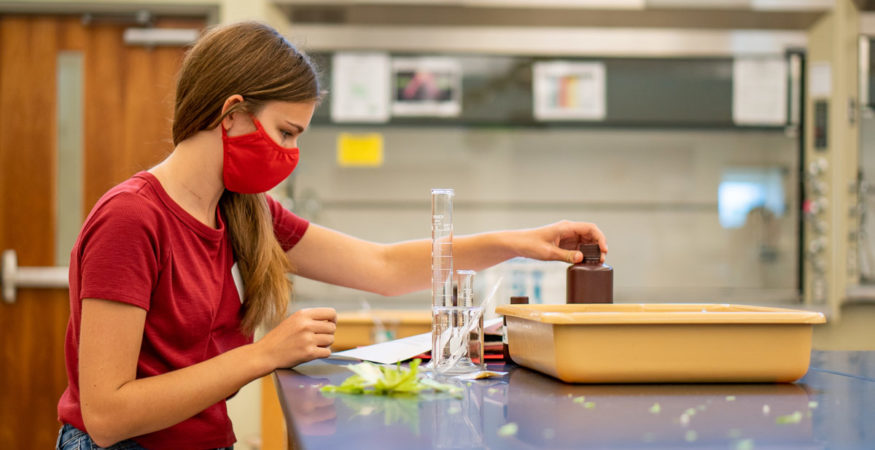 Use Every Last Brain Cell
If science is your thing (think beakers, bots and Bunsen burners), explore the world of STEM at Central College during our exciting, hands-on STEM Visit Day, June 18.
Make connections, tour campus, get your hands dirty and discover the possibilities Central College can offer you.
Our professors are the catalyst to your success, and you'll see why as you spend one-on-one time with them. There is no cost to attend.
Sessions
Dolphins and Infinity
Use statistics to investigate whether dolphins can communicate and look at some of the unusual things that can happen when working with infinity.
Explore the Connections Between Scientific Elements Taught in Exercise Science
Discover the links between human anatomy, physical orthopedic examination and mechanism of injury. This hands-on knee evaluation simulation will bring it all together.
Hidden Structures and Heat
Using a thermal imaging camera and engineering design, explore the concept of heat transfer: design, build and discover hidden structures and glaring inefficiencies in models of an ordinary home.
Picobot: Robots, Logic and Computer Science
Learn how to program a "picobot" to move around in its environment and discover fundamental concepts of computer science.
Slime, Time and Alchemy
Put on your own demo show featuring fun chemistry reactions such as slime, a chemical clock, liquid nitrogen, elephant toothpaste and "gold" pennies.
Schedule
| | |
| --- | --- |
| 10 a.m. | Check-in at the Graham Conference Center |
| 10:15 a.m. | Welcome to Central |
| 10:30 a.m. | Explore Central's Campus |
| 11:30 a.m. | Lunch in Central Market |
| 12:30 p.m. | Hands-on Workshops in Vermeer Science Center |
| 1:45 p.m. | Interactive Time With STEM Alumni |
| 2:15 p.m. | Thanks for Visiting! |
Register for this Event