STEM Visit Day
Join us Sept. 30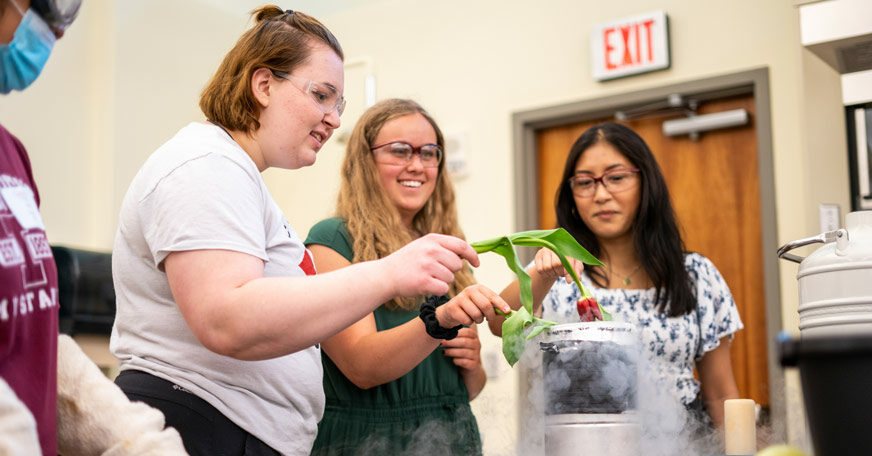 Use Every Last Brain Cell
If science is your thing (think beakers, bots and Bunsen burners), explore the world of STEM at Central College during our exciting, hands-on STEM Visit Day on Friday, September 30.
Make connections, tour campus, get your hands dirty and discover the possibilities Central College can offer you.
Our professors are the catalyst to your success, and you'll see why as you spend one-on-one time with them.
Sessions
Chemistry: From Fun to Function
Participants will engage in hands-on experiences in chemistry including liquid nitrogen, making an alloy and polymer synthesis. In addition, they will learn about the connections between these activities, scientific research and real-world applications.
Hidden Structures and Heat
Using a thermal imaging camera and engineering design, explore the concept of heat transfer: design, build and discover hidden structures and glaring inefficiencies in models of an ordinary home.
Picobot: Robots, Logic and Computer Science
Learn how to program a "picobot" to move around in its environment and discover fundamental concepts of computer science.
Structure-Function: How Breathing Patterns Adapt to Exercise and Stress
Discover the links between human anatomy, lung volumes and responses to exercise and stress. This hands-on session will connect body structures to the vital function of breath.
Using Data Science to Learn More About Health Factors
Explore misleading data visualizations and create your own (non-misleading!) data visualizations to learn about connections between gender, age, race and health factors like height, weight and BMI.

Schedule
| | |
| --- | --- |
| 9:30 a.m. | Check-in at the Graham Annex |
| 9:45 a.m. | Welcome to Central |
| 10 a.m. | Hands-on Workshops in Vermeer Science Center and Helen Jean Hislop Center |
| 11 a.m. | Lunch in Central Market |
| Noon | Explore Central With a Campus Tour |
| 1 p.m. | STEM Faculty Panel |
| 1:30 p.m. | Thanks for Visiting! |
Register for this Event
Registration is closed for this event.