An Award-Winning Teacher
"If you build a relationship with them, then they'll want to do well and work for you even if they're not having a good day."

– Amber Muntz '14
Major: Elementary Education
Student Activities: Volunteered at a daycare via Central's Education Program
Career: First Grade Teacher, Madison School District
Location: Phoenix, Arizona
---
Amber Muntz '14 says her first year of teaching was rewarding and challenging. "The best part was seeing how much growth my students made by the end of the year. The hardest part was having lots of extreme behaviors in my classroom and trying to figure out how to best manage them."
That year she learned to take things day by day. "You will never get everything done that you want to," she says, "so prioritize what's left over and then leave them for the next day."
Muntz taught third grade for three years followed by three years of first grade. She was one of two recipients of her district's You Make A Difference award, presented to teachers who best exemplify the district's purpose statement — Extraordinary Learning for All. The award is based on classroom instruction, inspiring others, exemplifying service, showing genuine respect and contributing to school and professional effectiveness. Muntz considers the award the biggest achievement of her teaching career. "Central helped so much to prepare me for becoming a successful teacher," she says.
Muntz got a lot of practicum hours, coupled with time to observe and teach in the classroom, before student teaching. Such hands-on experience helped her decide if teaching was truly the right fit for her. Her professors were also great role models who showed her a teacher should always have a positive attitude with their students in order to build a productive classroom.
"I love being a teacher!" Muntz says. "Our students are going to be the future leaders of America and we have to help them get there."
— Profile written by Christa Miller '20
About the Author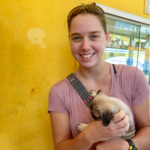 Hello! I'm Christa Miller '20, an English and anthropology double major and student writer for Central. I love horses and can be found riding every opportunity. Outside of classes, I enjoy studying at The Sanctuary on the square and relaxing with some video game walkthroughs. I also enjoy spending time in conversation with friends and writing poetry or short stories.