Outcomes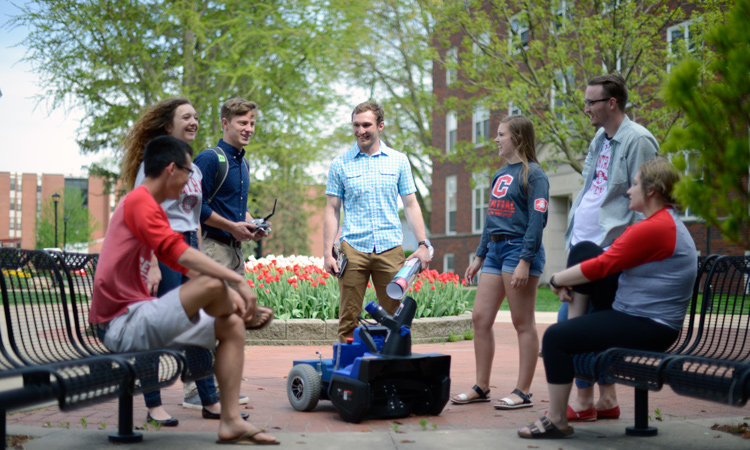 Our numbers tell the story.
Yes, we toot our own horn. Why shouldn't we? Central College graduates overwhelmingly succeed, with 98% employed, in graduate school or completing service a year after graduation.
92%
of Central students who graduate do so in four years or fewer
70+
academic program areas for career and grad school preparation
Know the facts
Central grads are succeeding around the world in a wide variety of fields.
55%
of Central graduates study abroad or travel internationally as part of a Central College activity
Get out there and get going!
Internships
A sample of internship placements, from a symphony to a senator's office.
Chicago Mercantile Exchange, Chicago
Fort Calhoun Nuclear Station, Fort Calhoun, Neb.
Iowa Hygienic Lab, Ankeny
U.S. Embassy, Santiago, Chile
University of Notre Dame, strength and conditioning
Grad Schools
Students are rocking it in grad school.
Duke University, medical school
Northwestern University, business
University of Colorado, Boulder, aerospace engineering
University of Pennsylvania - The Wharton School
Westminster Choir College of Rider University, Princeton, N.J., choral conducting
Careers
Dream job? You betcha! Alums are working as:
Actor, photographer and videographer, Chicago, Ill.
Managing director/Co-founder, Cascade Game Foundry, Seattle, Wash.
Morning anchor WHO-TV, Des Moines
Senior scientist, Bracco Suisse, Geneva, Switzerland
Special Agent, Division of Narcotics Enforcement and the Division of Criminal Investigation
Don't take our word for it!
Southeast Polk Schools
"Our relationship with Central College is stronger than ever, as we intentionally host and recruit Central students each semester. Students from Central are well-prepared young professionals with character and a desire to be exceptional educators – we are committed to putting quality people in front of our students."
— Joseph Horton, associate superintendent of schools