Double Trouble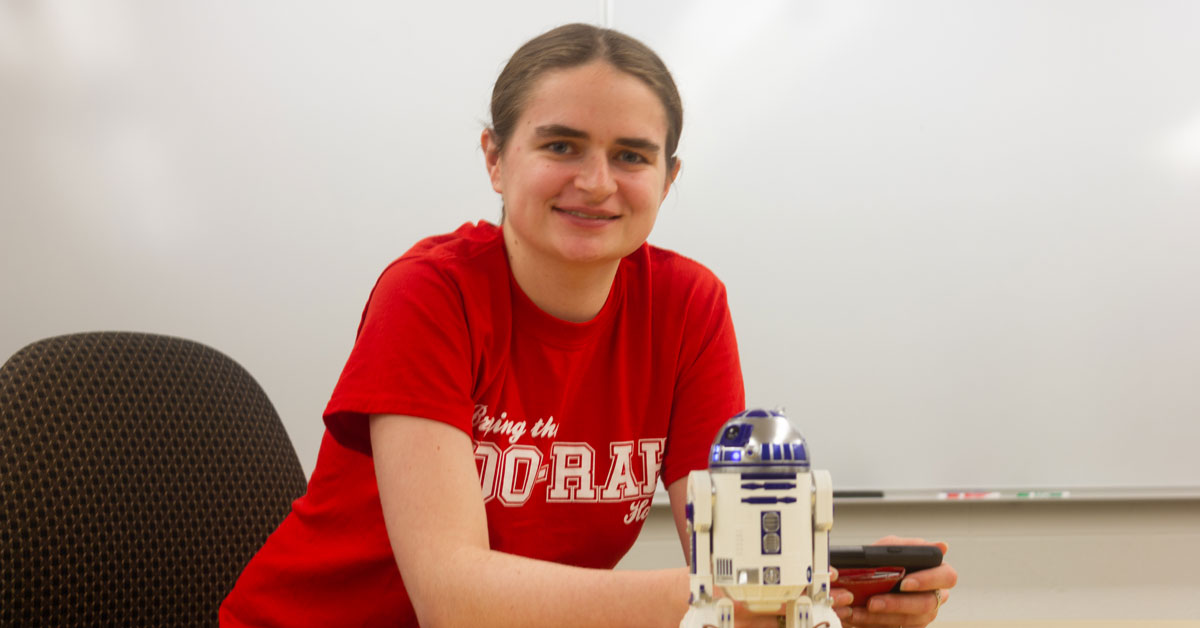 "When I walked onto Central's campus, I just felt like I could be here, I could live here — and that was before I heard about the programs."

– Avynne Trembly '20
Hometown: Longmont, Colorado
Majors: Computer Science, Music
Minor: Mathematics
Scholarships: Presidential, Trustee, and Music Major and Computer Science Awards
Campus Activities: Symphonic Wind Ensemble, Flying Pans Steel Band, Developer Student Club, Drone Club, Book Club, Pep Band, Student Alumni Association and Women's Triathlon
Career: Software Developer Associate at PNC in Longmont, Colorado
---
"I'm very stubborn," says computer science and music double-major Avynne Trembly '20. "I came to Central prepared to stand my ground."
Trembly trained both sides of her brain at Skyline High School in Longmont, Colorado. "We were a STEM-based school, so I was in the STEM programming. They require you to take a programming class, which I put off as long as I could," she says. "I finally took it and loved it. I was hired for the robotics team at the local Innovation Center, where I wrote programs to work with special needs children and mentored robotics teams for robotics competitions."
"At my school, we also had the visual and performing arts program. I was the only person to ever do both STEM and VPA," says Trembly. "It's not easy in terms of class load, because nothing correlates at all, but I approach computer science with a creativity that I also apply to music. In my mind, music is similar to a program in that music is just numbers. They were equal passions."
Trembly's dual interests led her to attend Central College. "I knew I wanted to do both computer science and music. I also knew I didn't really want to go to school right where I lived — I wanted to get out and explore — so I ran this crazy college search online," she says. "I decided I was going to visit Drake University in Des Moines, Iowa, and because I took the AP test and the ACT, Central was sending me a bunch of emails. My mom said, 'We're driving 10 hours to Iowa; we might as well visit Central, too.'"
The pit stop paid off: When Trembly arrived in Pella, she knew she had found her new home. "I loved the feeling at Central. I walked onto campus and I just felt like I could be here, I could live here — and that was before I heard about the programs," she says.
Trembly has been plenty pleased with the programs. She says, "No professor has ever asked me to drop or add a major and no professor has ever said, 'You can't do computer science and music.' That still shocks me, because throughout high school, that's all I heard. I came to Central prepared to stand my ground."
Finding the right fit doesn't mean moving to college is easy, however. "I had a pretty rough transition," says Trembly. "I had never moved in my life, so I was going from living in the same room for 18 years to living 10 hours away. Central was really there for me and helped me get over it and come into my own."
Even as she worked out the bugs, Trembly plugged into opportunities to use her tech training. "Experiential learning is something important and unique about Central. As a part of my International Politics class, I volunteered with a nonprofit called Pursuit of Innovation 515 in Des Moines teaching low-income children tech. I worked with a high school class building a drone," she says. "The kids were great. I loved every minute. I did that the first three years here until I studied abroad."
If studying abroad sounds like an interruption to Trembly's plan, it wasn't — it was the centerpiece. "It was always my dream to study abroad in London. That was one of my criteria for choosing colleges — that you could go to London. I actually made my four-year plan around doing it," she says. "I essentially told my advisors, 'I'm gonna do this.'"
Fortunately for Trembly's advisors, they didn't give her any static. "They were super supportive about it, even though I couldn't take any of my major classes while I was in London," she says. "They just said, 'Go.' At a different university, that probably would not have been the case."
Trembly's decision paid off. "I had the time of my life," she says. "I also enjoyed that we could get internship experience. I did data analytics for a finance company, which wasn't programming necessarily, but it was still math and numbers. I really enjoyed it. When I tell people that I worked abroad, they're like, 'Really? You're only 21.'"
Even at 21, Trembly keeps busier than many working professionals. "I am part of Central's Book Club, a fun small club of like-minded people. I also went out for triathlon because I didn't want the commitment of a full sport (triathlon was a club sport during its first year at Central) but I wanted something where I was still able to get some good physical activity."
Trembly was also the president of the Developer Student Club. We taught anyone with any level of coding experience to solve problems using Google technologies," she says. "We launched some Google classes and are now building some projects based on problems in the Pella community."
The connection with Google is one Trembly treasures. "I attended a hack-a-thon with Developer Student Club last year. Later, I got an email from Google Education saying to apply, and they sent us a bunch of information and those classes to teach. I actually got to go out to Google headquarters and it was the highlight of my life."
Although one of her dreams has already come true, the best may be yet to come for Trembly. "In the future, I sometimes consider combining music and technology," she says. "Guest artist Matthias Mueller brought in a SABRE. You attach to an instrument and combines the acoustical sound of the instrument with electric sound coming from speakers. I'm working on incorporating that into my senior recital."
With such big plans, it can be hard to imagine how Trembly fits everything into her schedule. "I'm incredibly organized — or I come off as incredibly organized," she says. "If I get bored, I say, 'Let's go join another thing.'"
— Profile written by Brandon Rosas '20
About the Author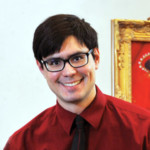 Hi! My name is Brandon Rosas '20 and I am a communication studies major and art minor. I work as a student writer for Central Communications. Outside of class, I can usually be found drawing, watching Salsa dance videos or studying in the Maytag Student Center.