A Scientist and a Scholar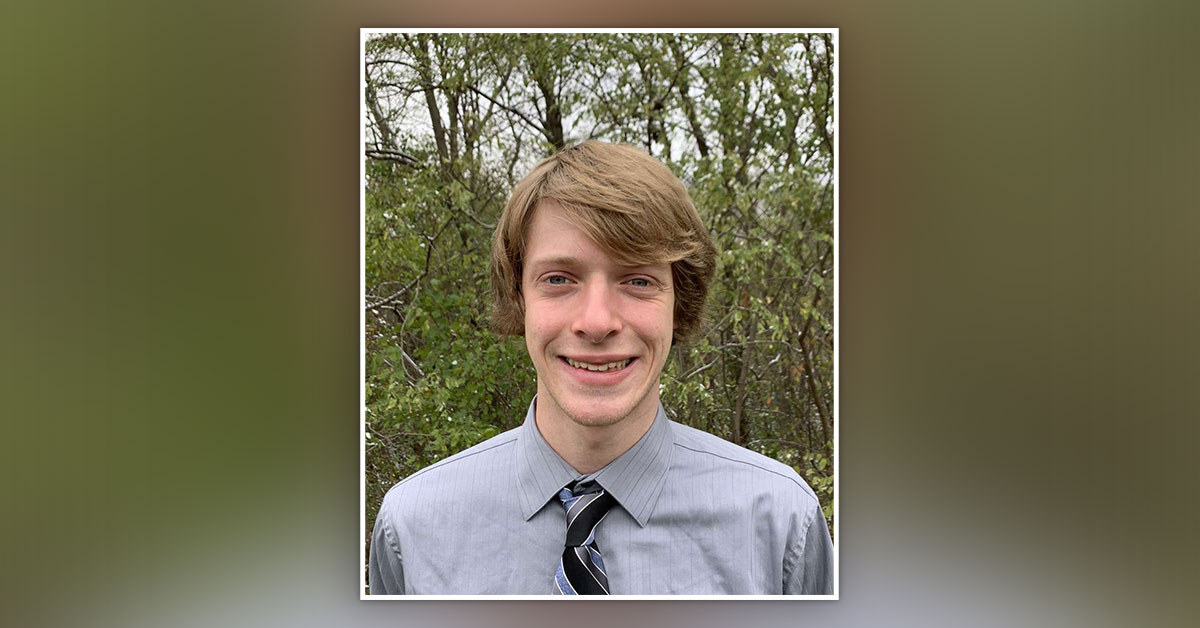 "Getting involved in research early at Central has opened so many doors for me that would be closed otherwise. Working with the faculty here has been essential. If you want a career in research, come here."

– Cameron Coles '22 
Hometown: Farley, Iowa
Major: Biology, Mathematics
Minor: Computer Science
Campus Activities/Organizations: Computer Science Club, Bridge Club
Study Abroad: Wales, United Kingdom
Scholarships: Presidential, Journey, Trustee
Exceptional Accomplishments: 2021 Goldwater Scholar, Computer Science Award, Benjamin A. Gilman International Scholarship Award
Career Goal: Obtain a Ph.D. in ecology to conduct research in mathematical ecology or evolutionary biology and teach at the university level.
Graduate School: Cornell University, Ithaca, New York
---
Whether it's through a microscope studying the molecular makeup of cells or exploring Central College's rigorous curriculum, Cameron Coles '22 sees the world through a different lens.
Coles has taken a wide variety of classes in science, the arts and humanities at Central. Coupled with unique, one-on-one research opportunities with faculty, his experiences set him apart from the average college student.
"I think being a liberal arts student has a lot of power. Central has given me the flexibility to focus on many different disciplines," says Coles. "I've been able to take a variety of classes that have helped me develop a diverse set of skills, which allow me to approach problems from a different perspective. That is one of Central's strengths."
Since his freshman year, Coles has worked closely with faculty on research projects as a summer research student — an opportunity Coles wouldn't find at a large university.
"Having the opportunity to talk to professors before I even decided to attend Central and knowing I could continuously work on research projects with them throughout my time here really attracted me to Central," says Coles. "Especially compared to bigger schools, where research opportunities are not guaranteed, and you don't get to have those opportunities until your junior or senior year."
Coles worked with Russ Benedict, professor of biology, for his first summer research project titled "Prairies for Agriculture." He helped identify native plants; studied which plants adult monarch butterflies visited; helped maintain a newly planted prairie; and identified and located different bat species.
The following summer, Coles conducted phylogenetic research focused on the biodiversity of bees in tall-grass prairies under the guidance of Paulina Mena, associate professor of biology. Coles also studied bioinformatics with Mark Johnson, Ruth and Marvin Denekas Endowed Chair in Science and Humanities and professor of mathematics and computer science, to see how computer science algorithms can be used to solve difficult questions in biology — questions that range from DNA alignments to genome assembly.
His junior year, Coles was encouraged by his mentors to apply for the prestigious Goldwater Scholarship, a national competition that recognizes undergraduates for outstanding achievements in mathematics, science and engineering. And of the nearly 5,000 nominees, Coles was named a 2021 Goldwater Scholar.
"The Goldwater Foundation is interested in a student's aptitude for being a researcher and looks for students who can show they've actually put in the work," says Coles. "They want to see your process and how you're backing up your own research. That's how you become a good scientist."
In summer 2021, Coles was selected to conduct research at a Research Experiences for Undergraduates (REU) Site funded by the National Science Foundation at the University of Wisconsin-La Crosse. For 10 weeks, he developed integral projection models to predict population dynamics of gizzard shad and invasive carp in the Mississippi River.
Coles' unique research opportunities and strong relationships with his professors have helped him discover a deep interest in ecological modeling, which he plans to pursue in graduate school.
"Getting involved in research early at Central has opened so many doors for me that would be closed otherwise," says Coles. "Working with the faculty here has been essential. If you want a career in research, come here."