Guiding Fellow Students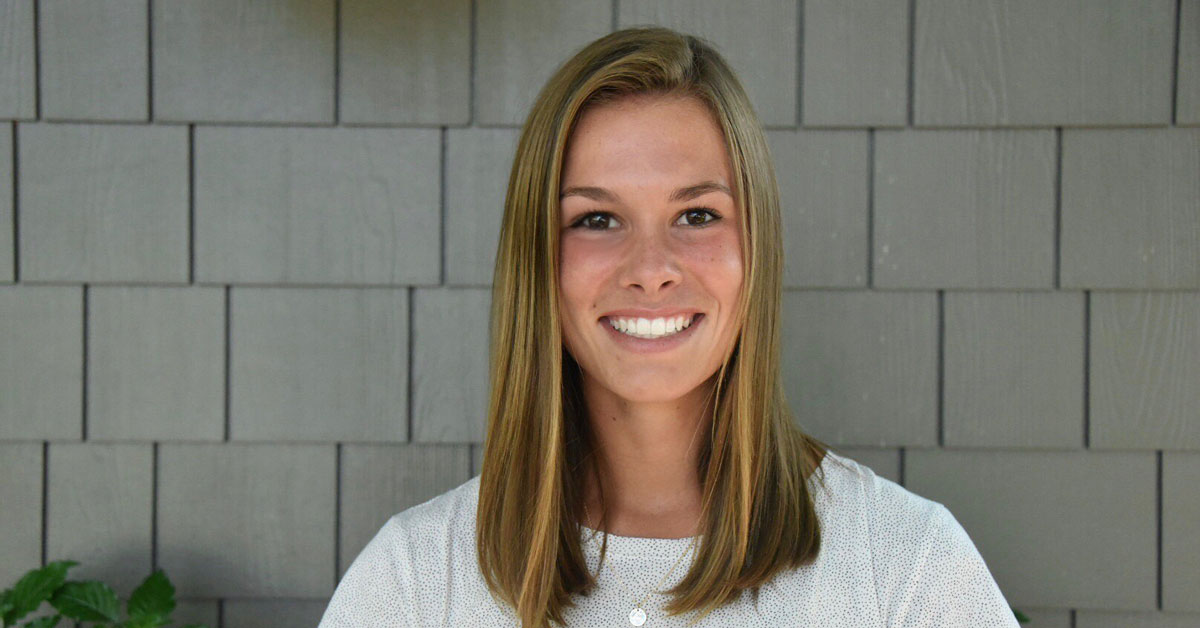 "Even after visiting a number of other colleges, I kept coming back to Central."

– Caroline McMartin '24
Hometown: Pella, Iowa
Major: Biology
Campus Activities: Admission Tour Guide, Cross Country, Track
Career Goal: Dentist
---
"Both my parents went to Central," says Caroline McMartin '24. (Her father, Jeff McMartin '90, is Central's head football coach.) "I grew up in Pella, and I've been on campus a lot for football games and other events. I really wanted to leave home for college."
She looked at six other small liberal arts colleges in Iowa, Illinois and Indiana. Although she says, "they all had good programs and facilities," none felt quite right. So she tried an overnight visit at Central. She discovered a whole new world right under her nose.
The first thing she noticed: On her official campus visit, her admissions tour guide "must have said 'Hi!' to 15 people on campus while we were on our tour. I could see students do really know and like one another here.
"I got to spend the night in a residence hall, go to a class, hang out with athletics teams. I really connected with everyone — the professors, the athletes, the coaches. I'm interested in pre-health study, and everyone I talked to had great things to say about the biology and exercise science programs, which are two of my prospective majors. I liked what's going on with the track team and could see myself contributing to building a really good program," McMartin says.
In spite of her desire to leave her hometown, she was sold. Going to Central, she realized, offered a whole new set of friends, activities and perspectives without having to leave familiar geography.
"It really came down to the people," she says.
McMartin became one of those people months sooner than she expected. When the campus reopened to visitors in June, the Central admission office found itself in need of tour guides. But the few Central students who remained on campus during the pandemic were involved in other activities, such as internships or student-faculty research. McMartin used her naturally outgoing spirit and intimate knowledge of Pella to lead visiting prospective students and their families on campus tours.
"I was trained really well by the admission counselors," McMartin explains. "I had to give them tours first before they let me take families around. I really had to know my facts."
She loves it. "I get to eat lunch with the families, talk about the college — and I'm really good at answering questions about Pella," she laughs. "People ask me about where to eat, what they can do, and I can answer those super easily."
What does she do when she encounters a prospective student who is unsure of whether Central is right for them?
"I tell them to do an overnight," she says without hesitation. "Even though I grew up here and was on campus a lot, that's where I learned what Central was all about. The people you meet, eating the food, sleeping in the dorms, sitting in on a class, seeing the personal connections you can make here — that's what did it for me. Especially because I want to go to grad school, all the internships, personal letters of recommendation and connections with alumni are going to be so helpful to me both while I'm here and in getting where I want to go after I graduate.
"Another huge plus for me is that we really value athletics here," McMartin says. "It's part of the culture, and a lot of students that come here are in sports."
McMartin believes Central is the best of four worlds: Academics, career and grad school preparation, athletics and community. As much as she thought she wanted to leave Pella, it's not a combination she found elsewhere.
"I'm glad I'm here," she says. "Central is where I'm meant to be."