Launching an Engineering Career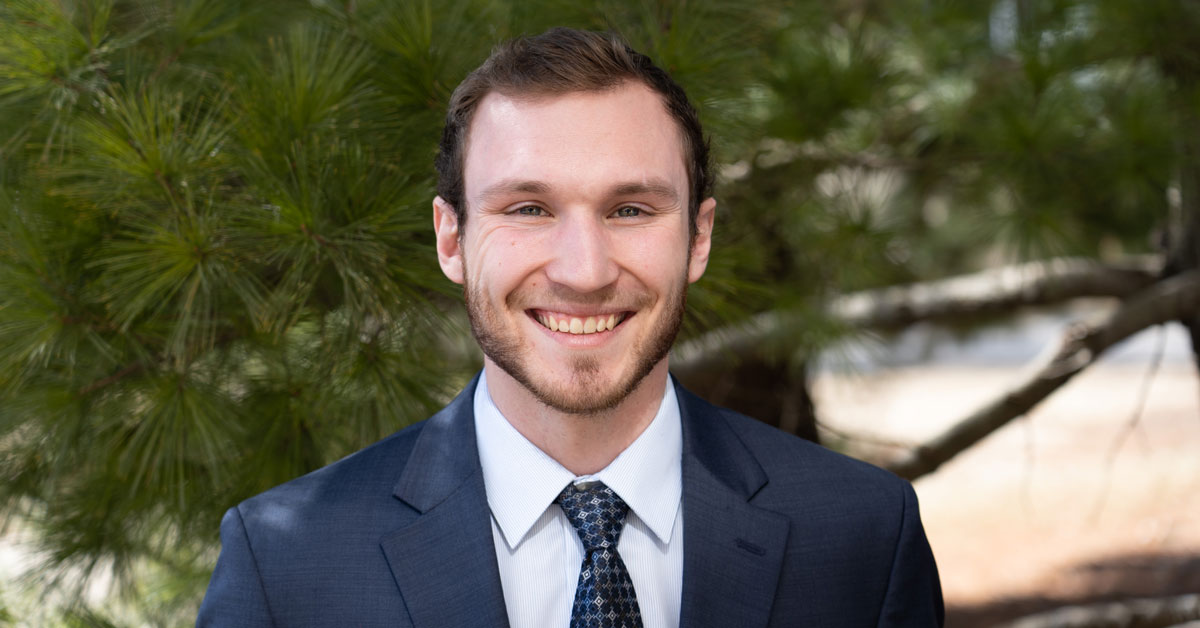 "By the time I graduated from Central, I had the mindset of 'I don't care what you throw at me I'm going to be able to find an answer to it.' Central prepared me extremely well."

– Cory McCleary '18
Central Major: Engineering
Campus Activities: Football, Wrestling and Student Support Services
Internship: Mechanical Designer, Kiewit Engineering Group, Inc.
Research: : Co-designed and co-built the Ankle Biter — a Remote-Controlled, Robotic Snowblower in Cooperation with Vermeer
Career: Mechanical Designer, Kiewit Engineering Group, Inc.
Special Accomplishments: Kiewit Engineering Group Max Ward Scholarship Recipient
---
Cory McCleary '18 was exposed to engineering early. "My dad had a machine shop. We were always designing and building stuff in there — racecar chassis, bodies, engines. By the time I got to Central, I'd used a lathe, a mill — I had carpentry skills and an affinity for the design and fabrication side of things."
He started out studying physics at Central with plans to participate in the college's traditional 3-2 engineering program. It enabled students to attend Central for three years and obtain a bachelor's degree in a major like physics. After the third year, participants in a 3-2 program transfer to a partner engineering school for two more years to earn an additional degree in engineering.
Instead, McCleary ended up as one of the college's first majors in its new engineering program. That allowed him to complete his engineering degree in four years instead of five — and without having to transfer.
With an emphasis on mechanical and electrical engineering, the program includes coursework in electronics, thermodynamics, materials and dynamic systems and physics and mathematics. Classrooms and laboratories in Vermeer Science Center plus a design studio and electrical and mechanical engineering labs in Peace Hall support both coursework and independent studies. The program culminates with a two-semester capstone design course. McCleary jumped in with both feet.
It's no surprise that three of his favorite professors were in his major. He ticks them off on his fingers:  "Victor Martisovits (associate professor of physics) because of his energy and positivity. Puneet Vishwakarma (lecturer of physics) taught the challenging higher-level classes. And Liz Golovatski (assistant professor of physics) taught thermal dynamics and Modern Physics II and is one of the most helpful teachers I've experienced outside of the classroom as well."
But two of his favorites professors were in his least-favorite areas: English and writing. "Josh Doležal (professor of English) and Susan Pagnac (director of writing) helped me with my writing and communication skills," he says. "And being able to communicate well is a huge asset if you're an engineer."
His favorite class, hands-down, was his capstone project in which engineering students take on a real-world engineering assignment. McCleary worked with fellow engineering major Jacob Challen '18 under the direction of Leon Durivage, senior engineering manager at Vermeer Corporation. Durivage gave the students three projects to choose from: a solar array tracking project, building a bike for the disabled or building a remote-controlled snowblower.
McCleary and Challen chose the last because of its combination of electrical and mechanical engineering. "Jake was great on the electrical side. He worked on the computer controls" says McCleary. "I helped design and build the snowblower part. We disassembled it, then I took it home and built a frame to house all the batteries and controls in my dad's shop."
The project was a success — and so was the engineering program, says McCleary. "By graduation, I had the mindset of 'I don't care what you throw at me I'm going to be able to find an answer to it.' I was challenged to the point that nothing else would challenge me more. I was able to knock down walls and barriers. Central prepared me extremely well."
He supplemented his engineering education with an internship as a mechanical designer at Kiewit Engineering Group, Inc. During that time he impressed his internship sponsors enough that he won the company's highly competitive Max Ward Scholarship. He was offered a job with the company as soon as he graduated. There he works with engineers to design the piping systems for powerplants and heavy industry.
He loves it. Many of his peers at Kiewit went to large universities. "I wasn't as experienced at design coming in as they were, but I had more common knowledge and better communication skills because of my liberal arts education," he says. "I love the teamwork, the communication, working with so many people. That's my favorite part about design: You get to see a project from start to when it's sent out for construction. It's tangible: I'm building something for someone. Central made it possible."