Profiles
Building an Engineering Career
"Central College teaches you the value of hard work."

– Eric Visscher '20
Hometown: Hull, Iowa
Major: Engineering
Minor: Physics
Scholarships: Presidential, Trustee and Central Heritage Award
Campus Activities: Golf, Ultimate Frisbee Club, Bridge Club and Board Game Club
Career Goal: Construction Engineering, Civil Engineering
---
"I always liked the idea of building things," says Eric Visscher '20. The engineering major and physics minor got a head start working construction in high school. "By the end of my first year, I was basically putting up walls myself," he says. This summer, Visscher built homes and his résumé with an internship at Pella Corporation.
Visscher hails from the small town of Hull in northern Iowa. An avid outdoorsman, he has found plenty to do in the Pella area. "I love fishing, hiking and disc golf. There are two disc golf courses in Pella, and the one on Central's campus is really challenging—one of the best I've played," he says. Visscher also ministers to second- and fourth-grade boys at Third Church and plays drums on a praise team in nearby Otley.
At an internship fair in Ames, Visscher talked to some engineers from Pella Corporation who asked if he'd thought about doing architecture. That led to an interview, which led to an internship.
"I worked both architecture and construction divisions, putting in windows," he says. "I was the mediator between the blueprints and the actual building. I used my background knowledge to make a difference on the team. My goal was to help everybody figure out exactly how to do the job right."
Visscher has a hunger for precision and a robust work ethic. "I like asking questions and making sure I know what I'm doing," he says. "It's better to ask two questions than to get it wrong." He often meets with his professors outside of class to discuss coursework. "The professors here make plenty of time for me to come see them," he says. "They are happy to work around my class hours."
Visscher has especially appreciated the approach of Associate Professor of Physics Alexey Pronin. "Dr. Pronin is very straightforward and teaches in a way that I understand," Visscher says. "He doesn't put any surprises on tests, so you know what you learn is what you need to learn."
Visscher has excelled in his classes. This past season, he was named to the American Rivers Conference All-Academic Golf Team. Visscher finds that Central makes it easier to maintain his grades while playing the sport he loves. "It's really easy to just say to my coaches, 'I need the day, I'm busy,' and they'll give me the day off practice."
In the few hours he finds between studying and practicing his stroke, Visscher enjoys playing card games and board games with friends. "I helped found the Board Games Club," he says. "Another engineer in my class is the president."
The rapport Visscher enjoys with his fellow engineering students is something he hopes to build with his Pella Corporation coworkers this summer. "I'm really looking forward to the on-site stuff," he says. "In the long run, I want to enjoy what I do. In the short term, though, I want a purpose. I want to be a part of the team."
Visscher is pleased to be part of the team at Pella Corporation and Central. "I am proud of working in construction. You feel good about yourself when you've worked an 11-hour shift and you've built half a house," he says. "That's exactly what Central teaches you: if you show up, work hard and do a good job, you feel good that you did it."
— Profile written by: Brandon Rosas '20
About the Writer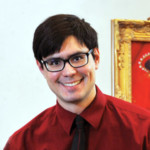 Hi! My name is Brandon Rosas '20 and I am a communication studies major and art minor. I work as a student writer for Central Communications. Outside of class, I can usually be found drawing, watching Salsa dance videos or studying in the Maytag Student Center. I would love to hear from you!
Please contact me at rosasb1@central.edu with your questions about Central.