Everyday Impact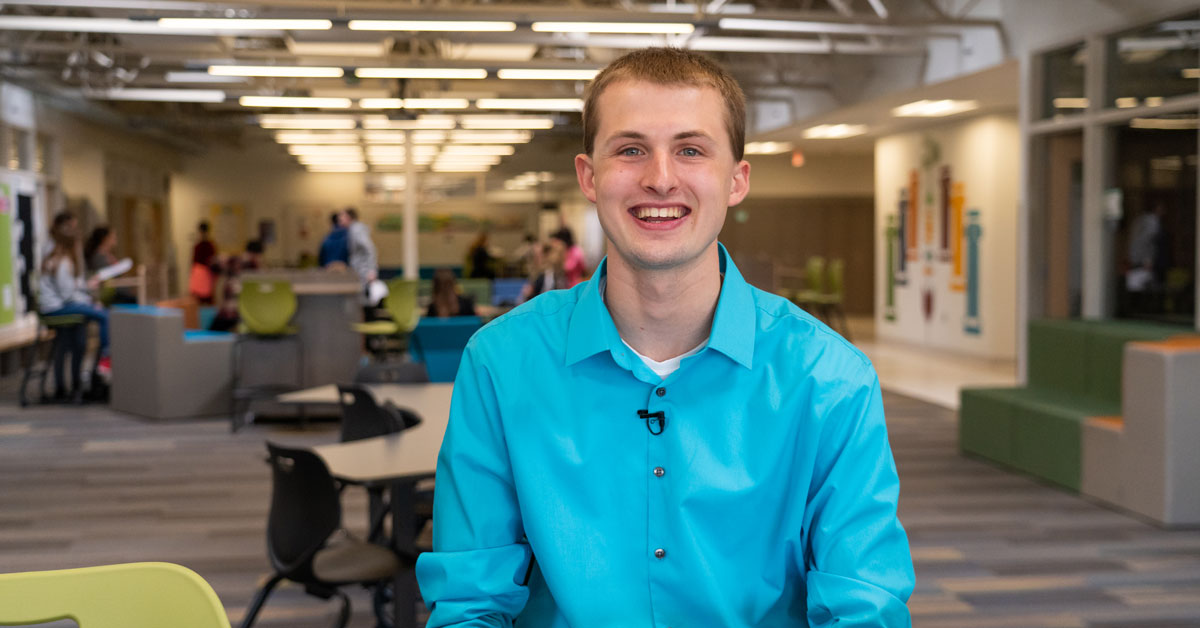 "My education was not wasted at all. … The things I learned at Central help me every day."

– Mason Muur '20
Hometown: Morrison, Illinois
Location: Charlottesville, Virginia
Majors: Social Science (Endorsement in Secondary Education)
Scholarships: Presidential, Trustee, Ministry and Mission, Central Heritage, Geisler/Penquite
Campus Activities: Cross Country, Track and Field, President of Central's Fellowship of Christian Athletes (FCA), Led Central's Cross Country/Track and Field Bible Study, Central's Student-Athlete Advisory Council (SAAC)
Career Goals: To be a solid role model and mentor for my students and athletes.
---
Not a day goes by that Mason Muur '20 doesn't think about something he learned at Central College.
Whether he's standing in front of his fifth-grade class, helping one of his runners record a personal best or finding positives through faith in the world around him, Muur knows the impact Central had on it all.
Muur is in his first year as a fifth-grade teacher at Regents School of Charlottesville, a private classical Christian school in Charlottesville, Virginia. He also coaches the varsity cross country and track and field programs and helps with middle school basketball.
"I love it! It's the perfect blend," he says. "Central taught me what I know. My education was not wasted at all. As I reflect — whether it's in the classroom, track and cross country or my faith — the things I learned at Central help me every day. It's pretty cool."
Muur ended up in Virginia to be closer to his fiancée, Kendra Sanders. The couple met at a Christian camp the summer before Muur's senior year at Central.
He was thrilled to get the opportunity to teach at a school that seemed to fit him perfectly.
"It's a small school with about 20 kids in each grade," Muur says. "It gives me the chance to build relationships and be a mentor and role model. That's something I built at Central. It set me up for this. It's been a blessing."
Muur majored in social science at Central with an endorsement in secondary education. He also was a member of the cross country and track and field teams.
It was the combination of athletics and the education department that first drew Muur to Central.
"The reputation was a big deal," he says.
Muur also took advantage of every experience he could on campus. He was president of the Fellowship of Christian Athletes for two years and led a Bible study for his two teams.
In the classroom, Muur found opportunities education students elsewhere don't get, particularly the Central Teacher Academy. It is a one-of-a-kind program that puts education students in classrooms well ahead of their student-teaching requirement. He was paired with a mentor at Pella Middle School in an eighth-grade classroom.
"The education department at Central really helped me shape my future," he says. "I was able to watch and observe and put together lessons. That's what CTA does. They get you in front of a classroom talking with students."
Muur and his fiancée plan to stay in Charlottesville past this year, allowing him to continue doing what he envisioned when he graduated. His long-term goals involve becoming a principal or superintendent or even an athletics director at a high school or college.
"I felt really prepared because of everything I got at Central," he says. "They taught me how to not treat this just as a job that just makes money but how to be invested in and enjoy it. That's what I'm doing every day."
Read More About Central's Education Program   Read More Alumni Profiles