Profiles
An Entrepreneurial Move
"Central focuses on 'learning how to learn' — which is key when you're working in any highly technical industry because there is always much to learn."

– Mitchell Phipps '17
Major: Business Management
Student Activities: Economics Accounting and Management Club Vice President, Central College Mock Trial Co-Captain and Central Leadership Board
Career: Derivatives Operations Analyst, Athene Group, Des Moines, Iowa; Co-Owner and President, You First Moving Company, Des Moines, Iowa
Location: Des Moines, Iowa
---
"I'm quite fortunate Central provided me a great foundation," says Mitchell Phipps '17. "I have been able to face challenging situations head-on with an appetite for success, which I definitely attribute to Central."
In January 2019, Phipps started You First Moving Company in Des Moines, Iowa, with plans to expand into Cedar Falls, Iowa, and Omaha, Nebraska.
Phipps always knew he had a knack for entrepreneurship and would eventually start his own business. That came sooner than he thought.
"My buddy from high school came to me with an idea to start a side hustle hauling large items like pianos and safes around the Des Moines metro area," Phipps says. Initially, he was skeptical, but after digging into market research he discovered a "massive, untapped local market for high-end customer service at lower costs compared to national chains in the moving industry."
Phipps found two large national chains owned nearly 70% of the Des Moines moving market and few local-based moving companies offering discounted rates besides a few very small mom-and-pop operations not set up to grow.
So Phipps and his friend started You First Moving. A year later, it has eight part-time employees and Phipps' friend and business partner quit his day job to operate the business full time.
"Our growth potential is very high due to the amount of sheer organic growth we've managed to achieve so far and the nearly unlimited partnerships, which are still out there for us to discover with realtors, lenders, builders, contractors and other businesses," Phipps says. "What began as a small side hustle has quickly turned into a fast-growing business which is expanding almost day-by-day."
About the Author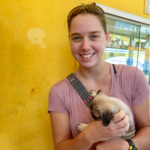 Hello! I'm Christa Miller '20, an English and anthropology double major and student writer for Central. I love horses and can be found riding every opportunity. Outside of classes, I enjoy studying at The Sanctuary on the square and relaxing with some video game walkthroughs. I also enjoy spending time in conversation with friends and writing poetry or short stories.