Profiles
TRANSFORMED Film
Thanks for stopping by. The showing of "TRANSFORMED" has ended.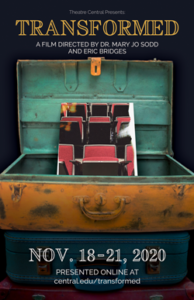 Central College's theatre department presents the film "TRANSFORMED" online only. The film premieres at 7 p.m. Wednesday, Nov. 18, and then is available online 24 hours a day through midnight Saturday, Nov. 21.
The nearly 60-minute film is an original production directed by Mary Jo Sodd, professor of theatre, and Eric Bridges, an independent filmmaker who graduated from Central in 2012. The two reached out to current and former Central students during the COVID-19 pandemic to "still create art." Cailyn Sales, Class of 2021, became part of the directing and editing team.
The film replaces a directing/production slot within the theatre department, a result of the COVID-19 pandemic.
Please also check out the other projects supported by Alpha Psi Omega National Theatre Honor Society: