Meet DelTon Alexander '24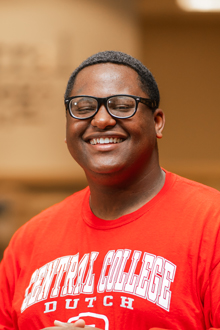 ---
DelTon Alexander '24
Admission Student Ambassador
---
Hometown: Iowa City, Iowa 

Major: Sociology

Minor: Business Management and Not-For-Profit Management

Campus Activities: Student Senate, Campus Ministries

Career Goal: Change the world by impacting the future youth. 
What's a Fun Fact About You? I love coffee and the conversations that come with them. My most memorable experiences at Central College this far are the late-night conversations with a good group of friends. 
What Is Your Favorite Central College Tradition? There are a lot of great Central traditions, but my favorite is the Lemming Race. I also enjoy Grocery Bingo and other events available on the weekends. 
What Do You Enjoy About Being an Admission Student Ambassador? I enjoy being able to meet our future students. 
Learn more about DelTon