Meet Morgan Mineart '26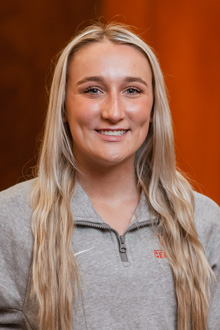 ---
Morgan Mineart '26
Admission Student Ambassador
---
Hometown: Earlham, Iowa 

Major: Biology 
Minor: Chemistry

Campus Activities: Softball 
Career Goal: My career goal is to be a large animal and small animal veterinarian.  
What's a Fun Fact About You? I grew up on a Boer goat farm! I was a state champion in FFA Extemporaneous Public Speaking and was on the runner-up team in the Iowa state softball tournament in 2021. 
What Is Your Favorite Central College Tradition? The Lemming Race and Fresh Cookie Tuesday. I also love Mongolian Fridays at Central Market! 
What Is Your Most Memorable Experience at Central College Thus Far? Welcome Week was very memorable because I met so many friends from all over the country. My friends and I enjoy walking around campus and Pella and going to the many coffee shops – especially during Christmas time!