Dance Team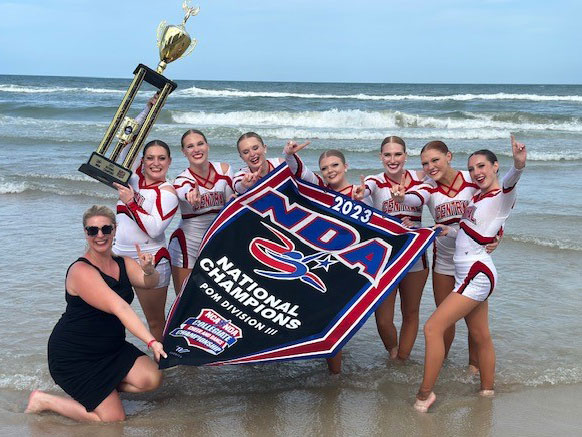 Central College Dance Camp
Come see what dance at Central College is all about during the High School Dance Camp! This clinic will be held 8:30 a.m. to 4 p.m. Saturday, June 17, 2023, at Central. Learn more about the clinic or register online.
Meet the Coach
Current Roster
| Name | Hometown | High School |
| --- | --- | --- |
| TiAhanna Bryant | Donnellson, Iowa | Central Lee |
| Paige Busick | Pleasantville, Iowa | Pleasantville |
| Alysha Coyle | Ankeny, Iowa | Ankeny |
| Carin Corrick | Fairfield, Iowa | Fairfield |
| Jaida Houge | Aurora, Iowa | Oelwein |
| Tessa Huff | Ames, Iowa | Ames |
| Breanna Kesler | Guthrie Center, Iowa | ACGC |
| Peyton Koch | Cedar Rapids, Iowa | Washington |
| Erica Langstraat | Pella, Iowa | Pella |
| Lillie McKee | Mingo, Iowa | Colfax-Mingo |
| Brooke Schott | Coggon, Iowa | North Linn |
FAQ
How often do you practice and for how long?
The Central College dance team practices four times a week for two hours.
What are the expectations for being on this team?
Mandatory attendance at all practices
Workout program outside of practice time
Attendance at all football and numerous basketball games
Attendance at assigned or requested appearances
Participation at all competitive events
Are practices mandatory?
All CCDT practices are mandatory. Being on the team is a full-time commitment.
Where do you perform?
We perform at all home football games. We also perform during halftime at selected home basketball games.
Does CCDT compete?
We compete annually in the:
ISDTA State Dance Team Competition in December.
American Rivers Conference Cheer & Dance Competition in February.
NDA College Nationals in Daytona Beach, Florida, in April
Do you accept video tryouts?
We would prefer to see all potential team members in person but if the tryout dates conflict with prior commitments, we do allow a video tryout. Contact coach Lexi Hanna for a deadline and all the required elements to be included in the video.
Technical elements required to be considered for CCDT:
Fouettè sequence consisting of 4+ turns and a double pirouette
Toe touch
Turning disc
Switch leap-right and left
Center leap
Straight leap-right and left
Triple or quad pirouette
Trick of choice (kip-ups, tumbling, aerials, front walkovers, etc.)
Are incoming students allowed to tryout?
Yes! First-year and transfer students are welcome to try out for the dance team.
Are there summer commitments?
Summer commitments include special appearances, fundraisers and monthly workshops.
How much does it cost to be on the team?
It's approximately $500 to be on the team, with the first payment due soon after tryouts.
Are there scholarships available?
Central College is a Division III school and does not offer scholarships; however, we manage multiple fundraising projects throughout the year to help pay for many of the dance team expenses.
What does Central College require academically in order to be part of the team?
Team members must complete at least 12 credits each semester and maintain a cumulative grade-point average of 2.00 or above.
Is CCDT a competitive or performance-based team?
We perform at games, but we also compete at the conference, state and national levels.