Sustainable Achievement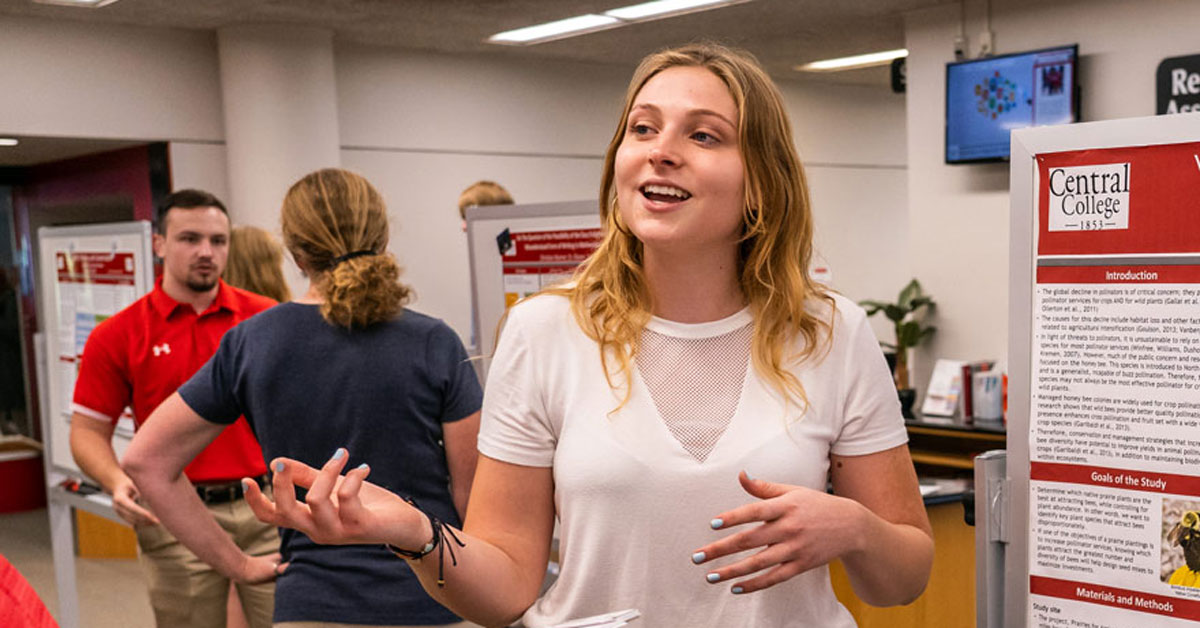 "I've had many wonderful faculty and staff mentors at Central. Thanks to them, I've done lab research, research in Costa Rica, presented my research multiple times — including at national conferences in Pittsburgh and Spokane — and won a Udall Scholarship."

– Elizabeth Sheldon '21 
Hometown: Chandler, Arizona
Major: Environmental Studies
Minor: Political Science
Campus Activities: President, Green Fund; Treasurer, Outdoor-ish Club; Sustainability Student Intern and Chief Sustainability Advocate
Scholarships: Presidential, Trustee, Johnson, Journey and Sustainability Award
Exceptional Accomplishments: Awarded the prestigious national Udall Scholarship for leadership, public service and commitment to issues related to the environment.
Career Goal: Sustainability Nonprofit Fundraiser
---
Elizabeth Sheldon '21 was recruited for volleyball and planned to be an exercise science major. It was the campus environment that made her want to come to Central College. Even though she's from faraway Chandler, Arizona, "Central was the only campus where I felt at home and not homesick," she says. "People here are naturally warm, kind, open and accepting of new people."
She played volleyball her first semester — until she got the seventh concussion of her athletic career and decided she didn't want to go for eight. "It was the biggest blessing of my life," Sheldon says. "I was able to jump head-on into sustainability and prioritize academics in a way I hadn't before. Now I'm a leader in a whole new sector that I'm much better at and more passionate about than volleyball because it is a way I can help change the world."
Her interest in sustainability goes back to watching documentaries about agriculture in high school and becoming a vegetarian. She earned Central's sustainability scholarship on Scholar Day and knew she'd end up studying it to some degree.
"Then I got connected with Brian Campbell, Central's director of sustainability education, and he became a mentor," Sheldon says. "He saw that I had a ton of ideas and passion and energy. He was able to help me direct that and push me forward into new places. He has taken me to attend and present at many sustainability conferences, and he's the first person to convince me that I'm smart. I have ADHD and no one diagnosed me until a year ago. Even though I had great grades in high school, I thought I was stupid because I didn't think the way other people do. My parents told me I was smart, of course, but after hearing it from someone with a Ph.D. who's not a family member I finally believed it."
Another mentor: Associate Professor of Biology Paulina Mena. "I met her freshman year when I took her environmental science class and I applied to research in Costa Rica and Iowa on harvesting honey from stingless native bees," Sheldon says. "We got to present our research multiple times. Lexi Engen '21, a fellow student researcher, and I presented at an Association for the Advancement of Sustainability in Higher Education conference in Spokane, Washington. We also won second place at an undergraduate research symposium. It was a really good experience."
Then there's Sheldon's advisor, Professor of Biology Anya Butt, whom Sheldon got to know in Butt's junior environmental studies seminar. "She's a tough-love professor," Sheldon says. "I take everything so much to heart that learning how climate change affects us can get really depressing sometimes. Professor Butt has taught me how to compartmentalize the tragedies and keep going. Sometimes just eating some fair-trade chocolate helps!"
Not all of her mentors are in the environmental sciences. "I loved studying the history of environmental policy with Professor of Political Science Jim Zaffiro," she says. "He is so soft-spoken and when he brings up important topics, he doesn't force his viewpoint on you. He makes you think about the content at a deeper level to form your own opinions."
Sheldon credits another political science professor, Andrew Green, with learning how to talk to people with radically different political views. "He is a phenomenal professor — he's so respectful and educates you on both sides of the issue. He really modeled how to have a great discussion across a political divide for me. I'm incredibly liberal and am only getting more so, but I now have a number of friends who are as conservative as I am liberal. We respect one another as human beings, and it really has enlarged my understanding of people and issues, even when I disagree with them."
Sheldon can't stop talking about her favorite professors, who seem to be most of those from whom she's taken classes. "I took The Diversity of Life with Professor of Biology Russ Benedict," she says. "It's an intro to biology class that teaches you how to think like a biologist, how to do lab research — it got me really excited about where I was heading academically."
Where she was headed academically got a big boost from another faculty member: Katelin Valster, lecturer of exercise science, pre-health program advisor and postgraduate fellowship and awards advisor. Valster suggested she apply for the Udall Scholarship. It recognizes college sophomores and juniors who have demonstrated a commitment to the environment, leadership, public service and issues related to Native American Nations.
Sheldon applied for the scholarship her sophomore year. Competition was stiff — each year, the Udall foundation grants the scholarship to only 55 applicants out of a pool of more than 500. Sheldon didn't get the award but applied again her junior year. "I was going for the environmental side," she says. "The application is a long process — nine essays. I'm glad I didn't get it the first time around, because I have so much more to offer now."
Finding out was still a shock. "I was on the phone with my best friend when I got the email and I started sobbing," Sheldon says.
As a result, Sheldon received a scholarship of up to $7,000, plus access to resources to enhance her education and professional development — and the chance to network with other Udall Scholars.
"I didn't realize what a big deal it was when I applied, but after I was awarded the scholarship I received many emails from my professors. It was even mentioned at the Central Board of Trustees meeting! I'm so grateful and thankful," Sheldon says.
She spent the summer after her junior year working for Iowa's Polk County Conservation. There she supervises a crew of eight high schoolers working to maintain county parks while mentoring them with lessons on environmentalism.
All her activities, internships, courses and scholarship applications are a lot to juggle, but Sheldon says it's worth it. Her advice for prospective and fellow students? "Invest yourself, jump all in. That's the only way you make real, beneficial relationships. Relationships with professors, with fellow students and interesting people get you where you wouldn't get alone."