Ensembles
Auditions
Ensembles are open to all students–majors, minors and non-majors. A simple audition is required.
An audition time will be emailed to your Central College email address after August 1.
Ensemble rehearsals begin the first week of classes.
It is possible to be in multiple ensembles.
Many ensembles carry ART credit for the Central College core.
A Cappella Choir
A few years ago, in a little mountain village in Italy, the A Cappella Choir moved to tears a crowd who didn't even speak English. The concert was standing room only, and the applause was thunderous. It was an experience no one in the choir would ever forget – a performance more meaningful than the ones in huge Roman cathedrals.
Moments like this demonstrate the power of music for director Mark Babcock, associate professor of music. "I witness on a daily basis that music transforms students," he says. "It helps them to connect to each other. It helps them connect to bigger ideas than themselves. And it helps them step out of mundane existence into things that are more grand, more beautiful and more life-giving."
The auditioned 60-voice group includes students from almost every major and is a staple at campus events, in Pella and around central Iowa. They also tour internationally.
ALMA

The rhythm section (piano, bass, drums, guitar) is the most common ensemble in music today. Gabriel Espinosa, ALMAdirector and associate professor of music, says there are millions of them throughout the world.
There's a reason these groups are so popular — their music is diverse and infectious. "Working with ALMAis fantastic because we explore other styles of music," says Espinosa. "For me, all of them have value. Classical music has value. Jazz has value. Pop has value. Rock, country, you name it. It just needs to be done right."
Ashley Albaugh, a communication studies major from Clarence, says ALMA is the reason she chose Central. "Other schools don't have anything like this," she says. "I love being on stage, and I love seeing talent in other people on campus."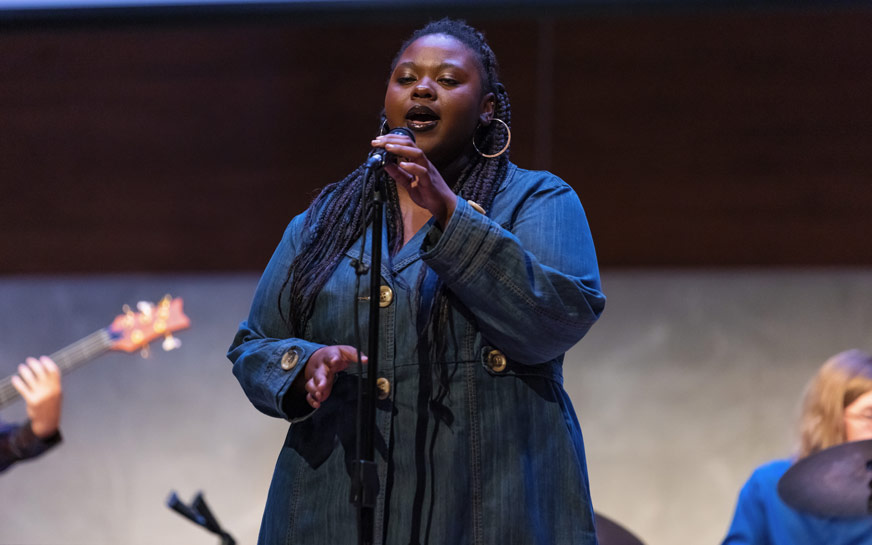 Chamber Singers
If there's one group on campus that acts like a family, it's the Chamber Singers. They're a subset of the A Cappella Choir, with 16 members chosen by Mark Babcock, associate professor of music.
Ian Michel, a biology and Spanish major from Decorah, says performing and rehearsing with Chamber Singers refreshes him from the stress of classes. "Singing is very therapeutic," he says. "But at the same time, I'm challenged intellectually every day."
The Chamber Singers often lend their voices to official events around campus, like the Heritage Day Luncheon and Convocation. Babcock tells the group how special these invitations are. "They're not asking a biology class to come up here to inspire everyone," he says. "When we want ceremony and depth, we look to the arts."
College Community Chorus
Students join with faculty, staff, alumni and community members to create the College-Community Chorus. This group performs once each semester and focuses on large master choral works like Mozart's Requiem, Glenn McClure's "A Caribbean Mass" and Handel's "Messiah."
For more information, call the Cox-Snow Music Center at 641-628-5383.
College Community Orchestra
Students perform with community musicians throughout the year in the College-Community Orchestra. The group creates beautiful sound while exploring musical masterpieces, from classics to world premieres, and is also featured in concert with the College-Community Chorus.
For more information, call the Cox-Snow Music Center at 641-628-5383.
Flute Choir
The flute ensemble has only six instruments, but audiences swear they sound like 20 due to the ensemble's complex harmonics.
The group may be small compared to other ensembles, but it sure has heart. Directed by Hannah Weiss, adjunct instructor of music, this ensemble gets to experiment with a variety of music, which expands members' skills. One of the ensemble members comments, "We do things my flute teacher in high school said I would never do."
Flying Pans
We guarantee you didn't have a group like this in high school. And you won't find one at any other college, either. "We're the only group in the country that does what we do," says Ivy Paul, a cultural anthropology major from Quincy, Ill.
The group plays on steel pan drums, which originated in Trinidad and Tobago. While the members play Caribbean music, they don't limit themselves to that genre. Some of their favorite concerts included disco music and hits like "Thriller" by Michael Jackson. "We're one the most creative music groups on campus," says Paul.
The Flying Pans are known for their theatrical performances, complete with costumes, lights and visual aids. Many of the Flying Pans aren't music majors, and none come in knowing how to play steel pan. The group takes anyone willing to learn, and director Stan Dahl, assistant professor of music, teaches them how to play each kind of drum.  "Stan is really awesome. He's our best friend," says Laura Burns, a chemistry major from Des Moines. She wasn't a percussionist in high school, but when she saw people playing steel pan for the first time, her reaction was immediate: "I've got to play these."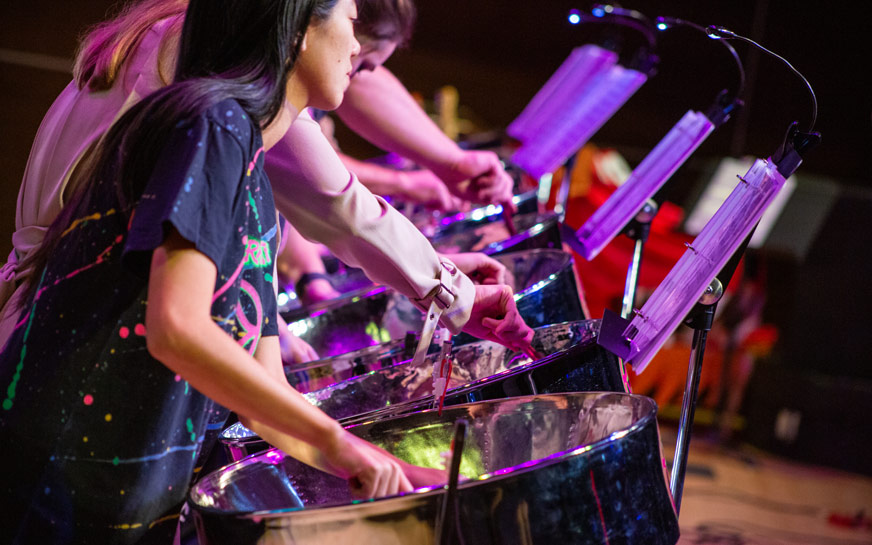 Jazz Band
Jazz is a little bit rebellious — at least according to Nate Herring, a physics major from Grimes who plays the sax. "It's extremely expressive," he says. "There's an emphasis on improv and creativity."
That sense of play could explain why this auditioned 20-piece band is always the life of the party. "It's so much fun to be a part of the group and to get to know the people," says Kylie Sampson, an elementary education major from Story City. One of her favorite memories was the band's tour to Chicago. Herring's favorite tour was in Merida, Mexico. "We got to touch people from a different culture with our music," he says.
Director Gabriel Espinosa, associate professor of music, says the band has a great time wherever they perform. Don't let the good times fool you, though. Jazz band challenges its members musically, pushing them to experiment and stretch their abilities.
Percussion Ensemble
One thing stands out about Central's percussion ensemble: It's never boring. There's always a new instrument to try -a xylophone, a brake drum, a frying pan or metal measuring cups. "Stan always pulls in new things, and we say 'I never knew you could play that,'" says Chelsea Catalano, a German studies and cultural anthropology major from Mitchell, S.D.
The ensemble is known for trying out different kinds of music too, including African and Japanese styles. The group recently performed a concert based on the music of InuYasha, a Japanese anime TV series.
Percussion Ensemble is a mish-mash of majors from all across campus, but they're brought together by a simple love of percussion – and the leadership of director Stan Dahl, assistant professor of music. "It doesn't matter if you have experience," says Catalano. "Stan is happy to teach you."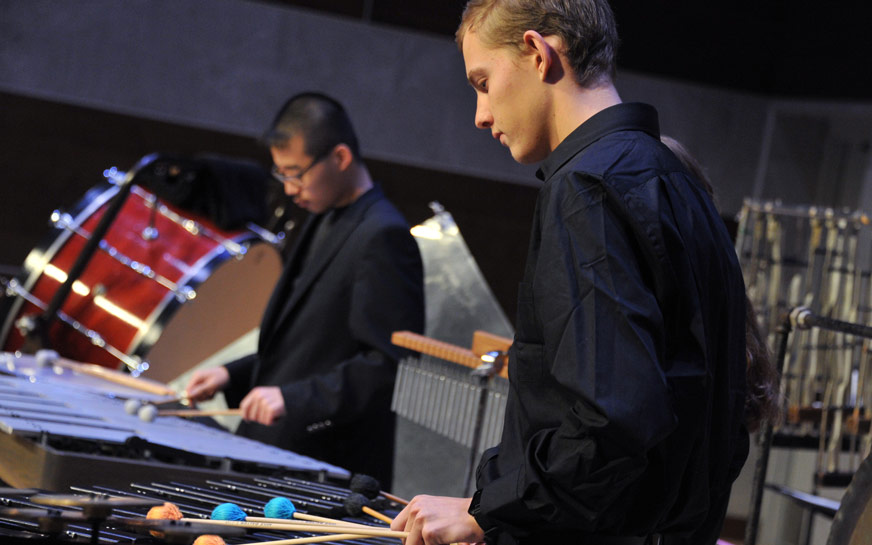 Symphonic Wind Ensemble
Whether they're playing for a packed house in Douwstra Auditorium or touring Mexico, students in Symphonic Wind Ensemble (SWE) love spending time together. "I look forward to going every Tuesday and Thursday. It's the best part of my day," says Emily Miner, a music education major from Donnellson.
SWE, an auditioned 50-piece instrumental group, is one of the premier ensembles on campus. They tour every year and have recently traveled to Memphis, New Orleans and Merida, Mexico. Miner says she has "uncountable memories" from those trips.
The friendships formed in SWE are only part of what makes the ensemble special. "I love the musicianship of the group," says Chrystal Von Ahsen, a music education major from Adel. "We blend together well. It's really nice to create something with other people."