Resources
Contents
COVID-19 updates to come later this summer from the NCAA.
See more info on reporting safety concerns, safety personnel, etc.
Have a Heart for Others
(Editable)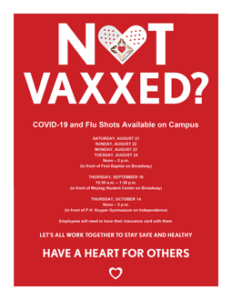 Shot Clinics
(Editable)
Complaints about sexual assault, harassment or discrimination should be directed to the Title IX Coordinator:
Peggy Fitch
Title IX Coordinator & Equity Officer
Maytag 211A
Central College, Box 023
812 University Avenue
Pella, IA  50219
(641) 628-5249
TitleIX@central.edu
For more information about these and other topics, see the comprehensive list of campus policies.