Cleaning Above and Beyond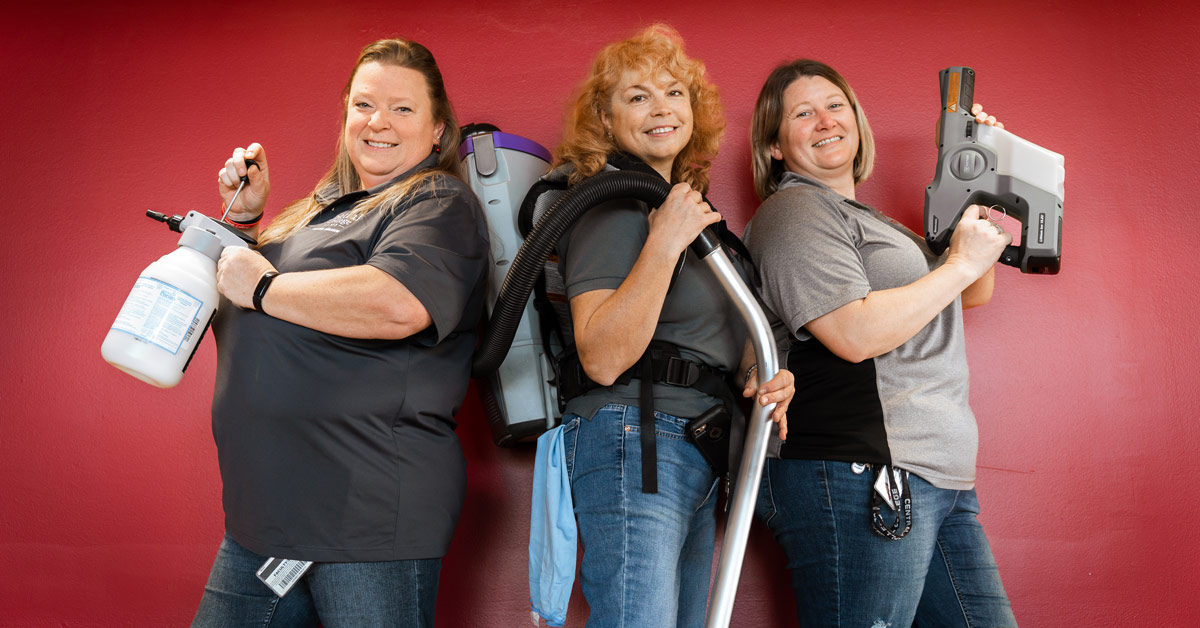 "We feel like we build relationships with students. We say 'hi' to them in the morning or 'good luck on your test' or 'good luck at football.' … We show them we care."

– Wendy Hartson
Building Services Team Lead
Central College's seven teams of building services associates are armed with the latest in high-tech tools, high-performance vehicles and friendly smiles to keep campus clean and safe while creating welcoming home-like spaces for students.
By the time most faculty and staff members arrive to work, or students wake just before that 8 a.m. class, some of Central's building services teams have been hard at work since 4 a.m.
Their job is to make Central a safe place to live, study and work. They keep Central's campus beautiful. They keep it clean and sanitized. And they do it mostly behind the scenes.
"There's a lot of pride in what we do," says Trisha Van Wyk, a building services associate and team leader with facilities management. "Central is pretty well known for being a clean campus and we don't want that to change."
Changes, however, came with the precautionary measures to prevent the spread of COVID-19 and other communicable illnesses. To limit the spread and impact of the coronavirus, Central's facilities management team adjusted cleaning protocols following recommendations by the Centers for Disease Control and Prevention.
"We have more sanitizing in our routine," says Wendy Hartson, building services team lead. "Since the pandemic arrived, we have different machines, sanitizing solutions and the sanitizing process is longer. The solutions need to be applied and then left to dry before anyone can touch those surfaces."
Central's cleaning crew always has gone above and beyond.
In residence hall rooms, they clean everything from toilets to showers while restocking toilet paper and emptying trash. They thoroughly clean classrooms, including desks and tables. They make the gym floor shine. They make common areas the perfect place to relax or study.
They vacuum, mop, scrub, sanitize and, on top of all that, offer friendly smiles to students, employees and visitors as well.
"I don't like messes," says Olga Sautina, building services associate and team leader. "I believe in a clean environment and I'm proud I can provide a clean space everyone can enjoy."
The 50 employees who make up the facilities department are an essential part of the Central community and Central family. They interact with students, faculty and staff, building those lasting relationships that make Central such a special place.
Take a look at some familiar faces:
WENDY HARTSON
Title: Building Services Team Leader
Hometown: Pella, Iowa
City: Pella, Iowa
Time at Central: Five years
Wendy Hartson and her team take care of Maytag Student Center, Central Hall and Scholte Hall, a coed residence hall.
The latter, Hartson feels, gives her team a unique opportunity some of the other facilities and cleaning teams don't get. They get to interact with students daily.
"We're one of the lucky teams," she says. "We get to build relationships with students. We say 'hi' to them in the morning, 'good luck on your test' or 'good luck' at football.' If we treat them with respect, they'll do the same back. I really like the college-age students and watching them mature from first-year students to when they leave as seniors."
Hartson and her team work from 4 a.m. to 12:30 p.m., starting with Maytag and Central Hall before moving to Scholte just in time to see many students waking up. Her team is responsible for cleaning the residence hall rooms, bathrooms, showers, common areas and more.
Hartson has been at Central for five years. "It's like a second home," she says. She can be seen returning to campus to watch sporting events. She's an avid sports enthusiast, especially when it comes to soccer. She likes to watch the student-athletes.
"For the most part, it's about them," she says. "We want them to come here, and we'll take care of them."
OLGA SAUTINA
Title: Building Services Team Leader
Hometown: Moscow, Russia
City: Oskaloosa, Iowa
Time at Central: 19 years
Where exactly is she from?
It's a game Olga Sautina likes to play when she meets someone.
It's Russia, Moscow to be exact., and her accent likely gives it away. But she has called the United States home for the better part of two decades now, including 19 years at Central.
"I love Central," she says. "I love the people with whom I work. The people here are wonderful. They're easy to work and communicate with. I just feel secure at Central."
It's her job to make others feel safe and secure here as well. She and her team are responsible for Graham Annex, Graham Conference Center and Jordan Hall.
Jordan Hall is full of classrooms, while the other two buildings often are used for events on campus. She and her team clean up the morning after those events, working 6 a.m. to 2:30 p.m.
"Some people are very thankful," she says. "We always appreciate it when they say thank you."
Sautina laughs when she says, "I don't like messes." In her profession, that's a good thing.
Whatever happens with COVID-19 or other viruses, she and her team will be ready, willing and able to provide the best for anyone setting foot on Central's campus.
TRISHA VAN WYK
Title: Building Services Team Leader
Hometown: Sully, Iowa
City: Lynnville, Iowa
Time at Central: 17 years
The summer of 2020 was quiet for Trisha Van Wyk and her team. One of their main responsibilities is the athletics facilities at Central.
They help clean and maintain the A.N. Kuyper Athletics Complex, including P.H. Kuyper Gymnasium and the H.S. Kuyper Fieldhouse. Her team also is responsible for the Helen Jean Hislop Center, which houses many of the kinesiology classrooms, and the facilities management building.
When classes are in session, the athletics facilities are some of the busiest places at Central.
"We really like the people in our buildings," Van Wyk says. "We get along really well with the coaches. It's nice talking to them, seeing them and getting to know them. We have some pretty good people to deal with."
Van Wyk has been at Central for 17 years. She echoes the sentiment of many others when asked what keeps her here.
"A lot of it is the people I work with," she says. "We all get along really well."
With those people in mind, Van Wyk and her team now clean high-touch areas and classrooms more often. She knows a lot of the work she and her team do goes unnoticed. But that doesn't mean they aren't valued.
"I think people are thinking about it more, but we feel pretty appreciated in our buildings," she says. "There's a lot of pride in that. Pella is a clean community and Central wants to share in that."