Climbing the Ladder to Success
"I credit Central for providing the knowledge and tools I need to succeed."

– Grant Seuferer '14
Major: Accounting
Student Activities: Baseball
Career: Tax Manager, Business Tax Services Group, Deloitte Tax LLP
Location: Des Moines, Iowa
Special Accomplishments: Two Month Global Rotation in Deloitte's Hyderabad, India Office; Winner of the 2015 Elijah Watt Sells Award; Master's Degree in Accounting from Iowa State University
---
"The education I received at Central was top-notch, and my experiences there pushed me to become a better student, athlete and person," says Grant Seuferer '14. "The great thing about Central is that professors' purpose for being there is to teach you and prepare you for success."
While at Central, Seuferer played baseball and graduated with a perfect 4.0 GPA. He's continued his stellar performance since. In 2015, 93,742 candidates sat for the Certified Public Accountant examination. Seuferer was one of only 75 who received the Elijah Watt Sells Award for earning a cumulative average score above 95.5 across all four sections of the Uniform CPA Examination, passed all four sections on the first attempt and completed testing in 2015.
All his experiences have served him well in his career at Deloitte Tax LLP in Des Moines, Iowa, where he's tax manager in the business tax services group.
"I enjoy participating in the development of our interns and staff, as well as serving as a career coach. I'm thrilled to be a part of the management team as our firm continues to grow," Seuferer says.
In winter 2019 he spent two months on a global rotation in the company's office in Hyderabad, India. While there, he helped manage and develop the team assigned to his engagements while teaching them the new U.S. tax laws. "It was an incredible experience," he says, adding that he strongly encourages anyone to study and/or work abroad if the opportunity presents itself.
About the Author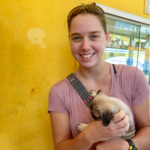 Hello! I'm Christa Miller '20, an English and anthropology double major and student writer for Central. I love horses and can be found riding every opportunity. Outside of classes, I enjoy studying at The Sanctuary on the square and relaxing with some video game walkthroughs. I also enjoy spending time in conversation with friends and writing poetry or short stories.