Profiles
A Writer Expands Her Voice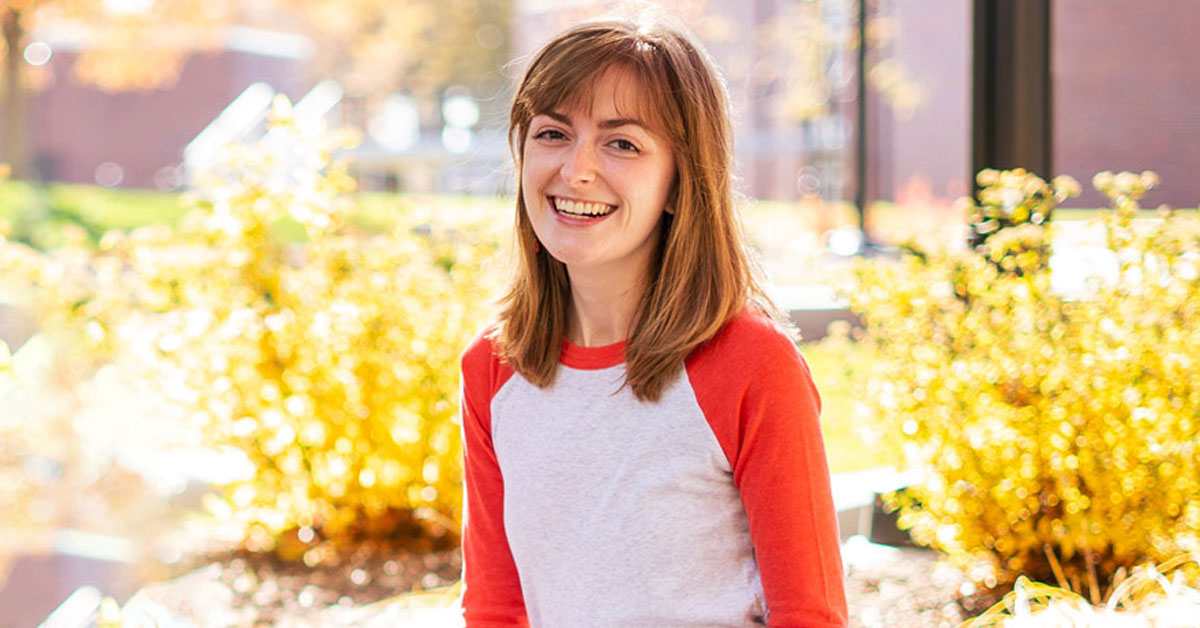 "The best thing about Central is how professors interact with students."

– Marin Harrington '21
Hometown: Omaha, Nebraska
Majors: English and Communication Studies
Minor: Philosophy
Campus Activities: Poetry Club; Dutch Brigade; Student Writer for Central Communications; Writing Tutor in Central's Tutoring and Writing Center
Scholarships: Presidential Scholarship, Central Creative Writing Award, Trustee Scholarship
---
"When I toured Central College, it was a personal experience unlike any other college visit I had been on," says Marin Harrington '21. "I was struck by how invested the school seemed in offering a personalized education for each student, and realized how much I wanted that for myself."
Harrington's main interests include literature and creative writing. On the second day of her first semester, a faculty member told her about a student writer position in the Central Communications Office. Thanks to the job, Harrington has spent the past year and a half learning more about various types of writing and about Central's inner workings.
Her favorite classes are all the English courses that enhance her reading, writing and critical thinking skills and teach her to make deeper connections between the literature she reads and the world at large. Harrington recently put her interests to work leading a creative writing workshop with first-year students in their Intersections class.
Two professors have had a significant impact on Harrington: Professor of English Michael Harris, who recommended her to work as a writing tutor in Central's Tutoring and Writing Center, and Associate Professor of Philosophy Mark Thomas, who introduced her to philosophy and encouraged her to study the subject further when he noted her passion for it.
"The best thing about Central is how professors interact with students," Harrington says. "They earnestly support mutual engagement, and want students to feel as excited about learning as they are about teaching."
While at Central, Harrington's work was published in the annual Writing Anthology. As a senior, she received the Annual Theme Award leadership award, which recognizes a student volunteer or recognized student organization that has demonstrated outstanding leadership in promoting and implementing the college's annual theme. The 2020-21 theme was diversity and inclusion.
Harrington plans to attend graduate school at Hollins University in Roanoke, Virginia, and has been accepted into its creative writing program.